Make a living selling on Amazon FBA
Amazon has over 240 million active users and over 50 million Amazon Prime. It's no wonder why many hungry entrepreneurs want to learn how to sell on Amazon! If that's you, this guide is a beginners guide to selling on Amazon. Stay tuned for more in depth walk throughs.
However, you don't have to be an entrepreneur to start selling on Amazon. In fact, most people who currently make a full-time income selling on Amazon learned how to sell on Amazon by simply listing things around the house.
They would start by listing their old blue ray or DVD collection, their old books, CDs and anything else they had lying around the house they didn't need anymore.
Many entrepreneurs, including myself, realized that taking that first step was one of the most important decisions in my life, as it allowed me to build an online business and a full-time income.
Selling on Amazon FBA has been one of my primary sources of income for years. As soon as I graduated college, I ventured into a full-time FBA business and had never looked back. This is the type of business where you can make real money (think over six figures), even if you work part-time. Not only that, but you don't need a lot of capital to get started.
In this post, I go over the basics of selling on Amazon and getting started with Amazon FBA.
Selling on Amazon
If you want aware, you can sell products on amazon.com. Sure, Amazon sells practically everything themselves, but you can also sign up to become a merchant on amazon.com.
As you can see from the screenshot of an Amazon product page, it is being sold by Amazon and by third-party sellers. Though the layout changes over time, you will essentially see a place to buy it from Amazon and a place to buy either use versions of that product or new versions of that product from other third-party merchants. When you start selling on Amazon, this is where your products will be listed.
You can make a full-time income by being a third-party merchant on Amazon.
And many people do just that. You might be surprised at the amount of people that buy from third-party sellers, rather than Amazon themselves. In fact, about 40% of Amazon total sales comes from 3rd party merchants.
I've also built successful e-commerce stores where I am a domain name and the e-commerce store itself. It does have some benefits, but that route takes a long time to build traffic And a customer base.
The advantage of selling on Amazon is one you don't have to manage your e-commerce store. And two can piggyback off from Amazons massive pool of millions of buyers.
Two ways you can sell on Amazon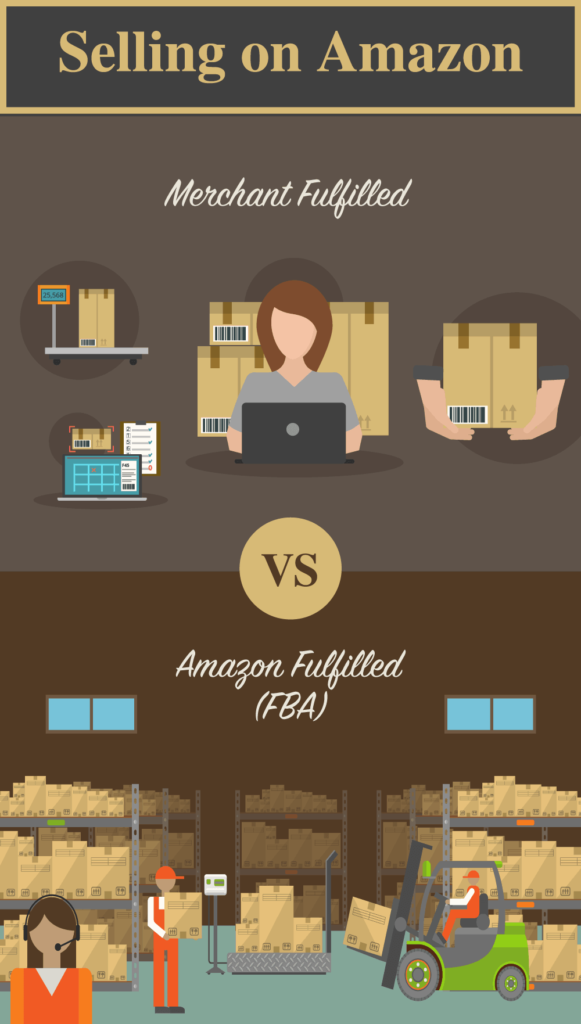 When selling on Amazon, there are essentially two ways that you can sell.
1 – Amazon fulfilled (FBA): This is called Fulfillment by Amazon, or FBA. This is essentially like implementing a fulfillment center to ship your products to your customers. This is where you send your products to the Amazon warehouses, Then every time an item sells, Amazon will pick pack and ship your order to the customer.
2 – Merchant fulfilled: This is where you sell items on Amazon, but every time your product sell you have to pick pack and ship your order to the customers yourself.
Selling on Amazon: Amazon Fulfilled (FBA)
Selling on Amazon didn't become an amazing opportunity until Amazon released a revolutionary program called FBA.
What is FBA?
Amazon FBA, or Fulfillment by Amazon, is a system Amazon put in place to help sellers. Essentially you list an item on Amazon, a customer buys the item, then Amazon ships it. They also handle all the returns.
The way this works is you simply send your items to Amazon (one of their fulfillment centers), using Amazons UPS partnered low-cost shipping rates, and your items are available for sales once they get to the warehouse. Then when a customer orders the product from you, Amazon automatically picks, packs and ships your items for you and sends it to the customer. They then automatically deduct the small fees.
Not only is it incredibly convenient to have Amazon ship your items (for a small fee), it also encourages higher sales on your products.
For example, when you use FBA to fulfill your orders, all your items will be eligible for free shipping to any Amazon customers. They will also be eligible for Amazon Prime customers.
Process to selling on Amazon FBA
If you want to learn how to sell on Amazon, you definitely should consider using Fulfillment by Amazon (FBA).
Steps that you must do
1 – Source Inventory: Using one of three methods mentioned below, you will find inventory to list on Amazon to make a profit.
2- List items: you will list the products on Amazon, and set the condition of each item. for example if an item is used, you will set the condition to acceptable, good, very good, like new, or if it is new – then new. at this point, the items will not be live on Amazon's website. Note: Once the fulfillment centers receive them, then they will be available for purchase on Amazon.
3 – Ship to Amazon fulfillment centers: next you will prepare and ship all your inventory to the Amazon fulfillment centers. You will benefit from Amazon's UPS partnered shipping prices, and get deeply discounted prices. You can then schedule a pickup from UPS (around $3.00 per box), or you can drop off the boxes at any local UPS store.
Automated – Amazon takes care of the rest
4 – Amazon receives your inventory: once Amazon receives your inventory they will unpack it and store it in their warehouse.
5 – Products go live: once Amazon scans in your inventory or places the barcode labels on for you ($0.20 per label fee), your products will then become live available for purchase on Amazon.
6 – Products are eligible for free shipping: since you're using Amazon FBA, your products are eligible for free shipping over $25 (books), or free shipping over $49 (all other items). also, your products are eligible for free one day into the shipping to all Amazon prime members.
7 – Your item sells: once an Amazon buyer buys one of your items, Amazon fulfillment center workers will pick, pack and ship your order to your customer without you having to do anything. It is completely automated. However, they will take a small fee out of each shipment. It is a negligible fee.
8 – Customer receives the product: if the customer is an Amazon Prime member, they will get the item within 1 to 2 days. if they are a non-Amazon prime member (just a regular Amazon account holder), They will receive the item within 5 to 8 business days.
9 – Returns: once the customer receives the product they are either happy or they want to return an item. The great thing about Amazon FBA is that they will also handle all the returns, so you don't have to do anything.
Selling on Amazon: Merchant Fulfilled
Even though I absolutely love selling with Amazon FBA, I'll admit that selling as merchant fulfilled has a smaller learning curve than FBA. However, when you sell with merchant fulfilled it will take more time, more work and is much less scalable. Here is the process of selling on amazon merchant fulfilled:
1 – Source Inventory: You would source inventory the same way as using Amazon FBA, however you will likely get much less that makes a profit.
2 – List items: Compared to FBA, when you list with merchant fulfilled, it requires less steps. Basically you just enter the condition, price, and some other details, and you the item is then live on amazon, ready to sell.
3 – Products is live: Once you list the item as merchant fulfilled, it is available for amazon customers to buy.
4 – Your item sells: Your item then sells, and amazon will notify you of the sale.
5 – Print shipping label and ship: After notifying you, you can then box up your item, weigh it and print a shipping label through amazon.
6 – Drop off: You then have to schedule a pickup or drop the package off at your local USPS, UPS or whatever shipping service you chose to ship with.
7 – Customer receives product: The customer will recieve the item within 2-9 days, depending on the shipping method chosen.
8 – Process any returns: If your customer is not happy, or if they want to return the product for any reason, you will have to process the return.
Amazon Merchant Fees vs Amazon FBA Fees
Amazon FBA Benefits
Amazon FBA qualifies for:
Free Shipping: When you see the prime & free shipping on eligible orders, you can get free shipping on orders over $25 (books), and $49 (all other items). You do not have to have an amazon prime account; you can just have a regular Amazon account. When you use FBA, all your items will be eligible for Amazon's free shipping service.
Amazon Prime: There are about 54 million Amazon Prime membership holders. Amazon Prime is a program Amazon offered that gives Amazon customers many benefits. For $99 a year, Amazon Prime members get unlimited free two-day shipping or free one-day shipping. They also get access to prime music (like Spotify), prime video (like Netflix), photo sharing, etc. When you use FBA, Amazon prime members can buy your items and get it shipped to them in 1-2 days, for free! This is one of the reasons why you can charge a higher price than other sellers who don't use Amazon FBA.
Benefits of FBA
You don't have to ship to customers: This is by far the biggest benefit of FBA. will save you tons of time not having to ship to your customers. You can then focus all your efforts on sourcing inventory and other aspects of your business.
Your products eligible for free shipping: This is the biggest
It's Easy: Once you get over the small learning curve of sending in your products and getting your feet wet with Amazon FBA, it's no big deal. It's actually very easy.
Scalability: You can scale your business unlike any other business using Amazon FBA. You essentially have access to a world-class fulfillment center, all without having to invest a ton of money into a warehouse, employees, software, systems, etc. In fact, FBA is very cost effective, especially considering all you get from it.
Cost effective: Amazon FBA fees are quite modest compared to other fulfillment centers. And best of all it is incredibly easy and completely integrated with the Amazon marketplace.
Multiple channels: Though the costs raise slightly when selling on different channels, you can easily sell on eBay, your e-commerce store, or on any other marketplace using Amazon FBA. The benefit is you can scale even further to other marketplaces besides Amazon.
New – Small and light products: Amazon added a small and light program, which lowers the fulfillment cost of fast selling smaller products. These items are also free shipping to buyers with no minimum purchase.
Selling on Amazon FBA vs. Selling on Ebay
When most people think about selling on Amazon, they often associate it with selling on eBay. Many of you may know someone who makes a little bit of extra cash selling on eBay. However, with the power of FBA and the quality of the marketplace that is Amazon has created, it an entirely different ball game.
Drawbacks to Selling on eBay
Too much competition: For some reason, there just seems to be a lot of competition on eBay. This, of course, depends on the niche you are in. However, typically eBay will have higher competition for products.
Much lower market price: The combination of the higher competition and the culture that eBay has created (encouraging low prices), it has led to a much lower market price.
Takes a lot longer to list: It takes much longer to list your items for sell on eBay compared to Amazon.
Not scalable: The reason why selling on eBay is not (easily) scalable, is because you have to ship and store the items yourself. At some point, you will get to a point where you need to get a warehouse and employees to continue growth. While selling on eBay is possible to scale, it is not as easy to scale as it is on Amazon.
eBay is not as user-friendly: eBay is not as user-friendly as it is on Amazon. This can affect your overall sales and conversions.
Smaller active user base: eBay has an active user base of 164 million people.
Benefits of Selling on Amazon FBA
Lower competition: Compared to eBay, Amazon, and especially Amazon FBA, has a much lower level of competition. This means you will not only be able to sell items on eBay for a higher price, but also likely in higher volumes as well.
Much higher market price: Amazon, as a whole has a much higher market price than eBay. And as you move to Amazon FBA, the market price becomes even higher! This means when you sell on Amazon, you will be able to sell your items for a much better price than you would get on eBay.
Very quick to list: It is very quick to list your items for sale on Amazon. The reason is that the listing pages are already created for you, and you only need to add your description of its condition. With eBay, you have to take pictures yourself and create each new listing.
Scalable (When utilizing FBA): An Amazon business is much more scalable when you have a world-class fulfillment center shipping your items to customers for you.
Great user experience: The Amazon marketplace has a much better user experience compared to eBay, which might lead to increased conversions and sales.
Larger active user base: Amazon has an active user base of 304 million people.
How to sell on Amazon – the top 3 Methods for sourcing inventory
When learning to sell on Amazon, it is important to understand the foundations of an Amazon business. There are three different techniques people use to sell on Amazon
Used Books, Media, and other Items: they often start out buying used items (thrift stores, library sales, garage sales, craigslist, etc.). This is the easiest method out of all three, and it requires the smallest investment of money because the rate of return is usually pretty high.
Retail Arbitrage: This is just about as easy as selling used items. To implement the retail arbitrage technique and purchase items to resell for a profit at stores like Walmart, Target, Marshals, Tuesday morning, etc.
Wholesale: Selling wholesale items may be the ideal method to creating a scalable business selling on Amazon. However, this approach is the most advanced and can take a little bit of an investment of capital to get started. This method can include branded items, non-branded items, self-branded (OEM – white label), or items you invent yourself.
The reason why most people start out selling on Amazon using these two methods is that they are low risk, easy to do, require very little capital, and typically have very high ROI.