Ask anyone who sells products online, which part of the process they wish they could have some help with, and you'll typically hear the same answer: shipping.
This is one of those things that is not very glamorous in business, but very necessary for any successful e-commerce business that sells on their e-commerce store, Amazon, eBay or any other marketplace.
Ensuring the right product gets to the right customer on time, in one piece, and without getting lost in the mail can be a costly and time-consuming process. You also need a system to customers and their orders so customers can stay in the loop.
Luckily there are many shipping solutions out there can help. Many of them are online versions (that work on Mac and PC), but some have desktop software versions that offer more features. Unfortunately, many of them are only for PCs.
If you're a Mac user, your options are limited, but you may want to give Endicia a try, as its one of the few to have dedicated mac software.
What is Endicia?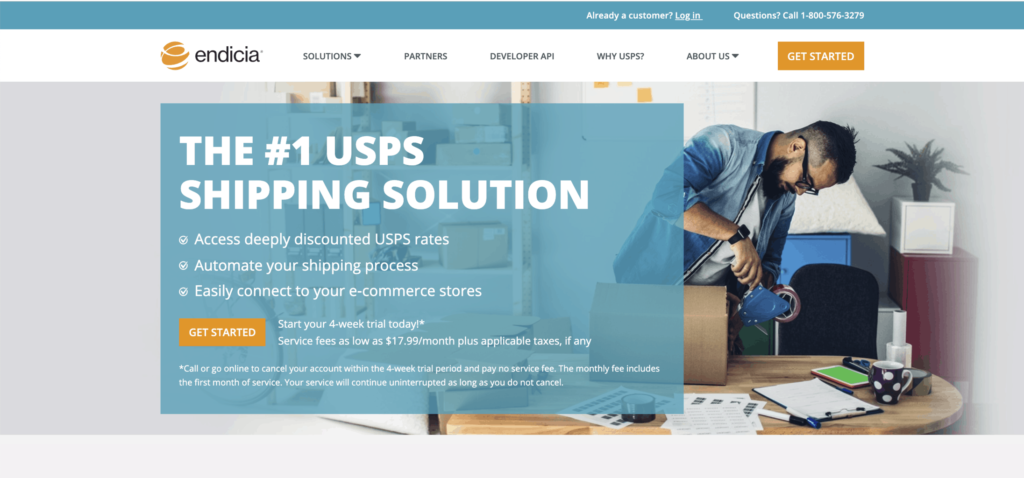 Whether you ship your products from a home office or warehouse, anyone who uses the United States Postal Service (USPS) to get their products to their customers can take advantage of Endicia's services and features.
They include discounted USPS shipping rates, printed shipping labels, verified addresses, the ability to purchase insurance or delivery confirmation, scheduled pickups, and tracking for all of your packages.
Endicia handles both domestic and internationals shipping and even includes a few extra perks for international shippers, like the fact that you don't have to fill out customs papers on your packages and you can take advantage of address verification that extends to over 240 countries.
Endicia Overview
Endicia and Amazon
Endicia is particularly popular with eCommerce retailers, such as those who sell on Amazon, because you can streamline the shipping process a bit by importing all of your orders from Amazon to Endicia's software.
It also works with Paypal, Shopify, eBay, Etsy, Yahoo!, Magento, and several other major marketplaces. See the full list of Endicia integrations.
Endicia and Mac Users
Without a doubt, Stamps.com is one of Endicia's top competitors. Many will wonder should they choose Endicia or Stamps.com. While both options are perfectly viable there are certain considerations for both.
For example, while the two services offer many of the same advantages, Stamps.com Desktop software isn't available for Mac users – so you lose out on some advanced features like batch shipping.
Endicia, is available for both Mac and PC, though if you want to use it on both platforms, you'll have to set up two unique accounts. When using the program for Mac, you'll pay a monthly fee plus your postage, and once you're signed up, you can download the software to your computer and get started.
You can then integrate your eCommerce sales with the software and import all of your orders. From there, all you need to do is weigh your packages, print your labels, attach the labels to the packages, and schedule a pickup with your mail carrier. It's definitely a time-saver, especially if you don't like to go to the post office and stand in line every day.
Pros of Using Endicia
Of course, saving time and money are the ultimate reasons why you'd use a service like Endicia, and it definitely provides you with those opportunities. It also:
Integrates well with Amazon and other major eCommerce sites
Allows you to print multiple labels at a time for bulk shipping
Makes international shipping as easy as domestic shipping
Provides a service for Mac users that isn't readily available from competing sites like Stamps.com
Cons of Using Endicia
If you search user reviews online, you'll see that not everything regarding Endicia is pretty good.
First of all, if your printer jams or runs out of ink while you're printing a shipping label or you discover you've made a mistake, you do have 24 hours to reprint the label.
However, after this time is up, you need to ask for a refund, which can be a pain. The issue of refunds seems to be the biggest complaint among users.
A few reviewers also state that they don't necessarily find Endicia's software user-friendly at first (though they liked it after the initial setup), and a few others have remarked on problems they've had with support and customer service.
The bottom line
So, should you give Endicia a try? That's up to you, of course, but if you're a Mac user looking to save time and money on shipping, it may be worth it.
You'll also need to make sure you only use USPS shipping services and that paying the monthly fee is worth the savings, depending on how much you sell each month. There's no annual contract, so you can always cancel your account after a month or two if it doesn't work out.
Overview
Endicia, just like stamps.com is a great shipping app for Amazon and e-commerce sellers alike. One strength that Endicia has always had was their mac integration. Endicia has a dedicated Mac app and they have always been focused on serving the community of users who use Macs. So if you are a Mac user, Endicia.com may have the advantage because of their dedicated software. However, if you are a windows user and you were looking forward to batch shipping, then you may be more interested in stamps.com because of the cheaper plans. If you want to use batch shipping with Endicia on a windows machine, for some weird reason, you need to upgrade to their professional plan at $34.95/mo. Overall though, Endicia is just as good a contender as stamps.com.
Selling Channel Integrations
Other Business Software Integrations
Pros
Integrates well with Amazon and other major eCommerce sites
Auto import from Amazon, eBay and Etsy
Other eCommerce integrations
Allows you to print multiple labels at a time for bulk shipping
Makes international shipping as easy as domestic shipping
Provides a service for Mac users that isn't readily available from competing sites like Stamps.com
Quick and easy shipments
Bulk / Batch shipment processing
Mac App (Mac and PC compatible)
Cons
There are custom settings which can take some getting used to
You only have 24 hours to reprint postage labels due to paper jams/ mistakes
Refunds can be a pain (it is a 30 day refund window)
There could be more connections with marketplaces/selling channels
It can get a little technical troubleshooting (setup and technical issues)
The workflow isn't as good as other software I have tried
Bulk / Batch shipment processing on Windows requires the higher $34.95/mo plan
Only one Reprint (printer jam, mistakes, etc)