Anyone who mails packages regularly has probably heard or seen an ad for Stamps.com, and it probably piqued your interest.
After all, shipping is usually considered one of the most monotonous tasks for anyone who sells their own products online. And anything that can make that task easier is worth a shot, right?
Not only can Stamps.com make shipping easier, but it can save you time and money.
What is It?
Stamps.com is a shipping website that allows you to buy postage for any packages you plan to ship through the United States Postal Service (USPS). However, you pay for your shipping at a discounted rate.
Once you've purchased your shipping, you can print your labels from any home or office with even the most basic printer, slap them on your boxes, they are ready to ship.
If you want, schedule a USPS mail carrier to come by your home or office and pick up your packages, eliminating your need to visit the post office and wait in line to mail your products out to your customers.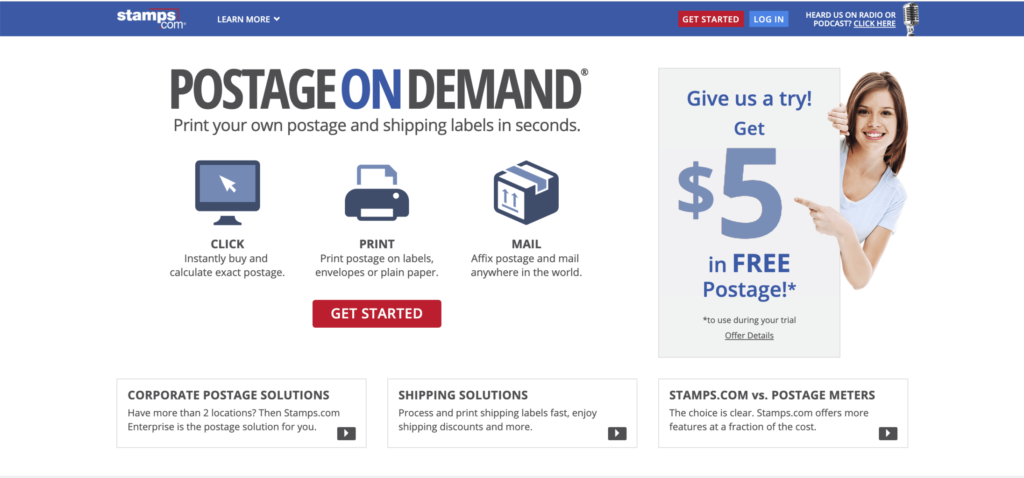 Most Stamps.com users feel the service is easy to use and has more to offer than doing your shipping directly through the USPS website or physical post office.
How Much Does It Cost?
Stamps.com isn't a free service. When you sign up, there's an initial trial period, but once it's over, you'll pay a monthly fee. That fee starts at $17.99 for a pro plan, $24.99 for a premier plan, and enterprise users will pay a custom rate.
For simply signing up for a free trial, you'll get five dollars worth of free postage to use, and new customers receive a scale that allows you to weigh products up to five pounds.
In turn for paying the monthly fee, you get a discount on both domestic an international shipping, plus insurance for your packages. There are no annual contracts — you can cancel your account at any time.
Stamps.com Features
All USPS Services
Stamps.com allows you to ship through any of the USPS services offered. Here are the following USPS services that most Amazon sellers will use with their stamps.com account:
First Class Mail®: (2-3 days now, used to be 2-5 days)
Parcel Select Ground: (2-8 days)
Media Mail: (2-10 days)
Priority Mail®: (1-3 days)
Priority Mail Express®: (1 day or 2 day, by 3 p.m.)
International Mail: (7-21 days)
With a click, you can add any of these USPS services and you can also add tracking, registered mail, insurance, return receipt and other services they offer.
You can also print out certified mail and international mail forms without filling them out by hand like you would have to at the post office. You can also print out USPS postage for flat rate boxes and envelopes. Basically, anything that you can do at the post office you can do on your stamps.com account.
Print Shipping Labels
Though you can do some other cool things like printing stamps or directly onto envelopes, printing shipping labels will be the main purpose for Amazon and e-commerce sellers wanting to fulfill their orders. stamps.com allows you to print out shipping labels for all your orders.
You can print them on shipping labels that have a peel-back sticky surface or you can just print them on Plain paper if you wanted, and then later fix them to your package. However, we definitely recommend the adhesive printer size shipping labels or something like a DYMO LabelWriter.
Postage Discounts
Depending on how much you ship, the discounts may be worth the price of your stamps.com subscription.
Up to 18% off First Class Package Service
Up to 13% off Priority Mail Express
Up to 39% off Priority Mail
Batch shipping on Stamps.com
Ah, batch shipping! For me, this is the most important part of any shipping software. Its all about workflow and saving time.
The batch shipping feature is what makes stamps.com, Endicia, and especially Shipstation, Amazing for e-commerce, eBay and Amazon sellers. The batch shipping feature of stamps.com pro software allows you to very easily do batch shipments for multiple orders.
There is a catch though. Read on Mac users.
Though Stamps.com does allow batch shipping, if you are a Mac user you will not have access to their batch shipping functionality. Windows users will have access to the desktop software, whereas Mac users will need to use the online version of the software. 
To see a full list of Stamps.com online version versus the desktop software, check out this comparison list.
If you are a Mac user, you should opt for shipstation instead.
Here is an overview of the batch shipping functionality:
Import E-Commerce Orders with Stamps.com
What good wood a batch shipping feature be without being able to import your orders from eBay Amazon or your eCommerce store? The stamps.com software allows you to import your orders from your E-commerce web stores for batch shipping. There are many stamps.com integrations available, and many ways to import orders:
Amazon Integration
Though stamps.com can work with a variety of marketplaces, many of the readers on this blog will be primarily using Amazon. Amazon sellers will love that Stamps.com allows you to connect to Amazon to painlessly ship your Amazon orders. Here are some of the features stamps.com offers for Amazon sellers:
Import orders from Amazon
Easily Print shipping labels/packing slips
Automatically get the best shipping rates based on the shipping speed you prefer
Automatically send tracking numbers to your customers!
Automatically post back the order & tracking info to your Amazon store
*Note: Amazon, eBay and Etsy shipping integrations work on both Mac and Windows!
Online Marketplace:
eBay
Amazon
Etsy
PayPal
Rakuten
Yahoo!
Online Shopping Carts:
3dcart
Magento
Sears
Shopify
Volusion
WooCommerce
Connect to a File:
Importing Orders from Other Sources:
Manually Add an E-commerce Order
Online Marketplace:
eBay
Amazon
Etsy
PayPal
Yahoo!
Rakuten
Online Shopping Cart:
3dcart
Bigcommerce
Channel Advisor
CS-Cart
Magento
OpenCart
OsCommerce
PrestaShop
Sears
Shopify
Volusion
X-Cart
Zen Cart
Connect to a File:
Connect to an ODBC Data Source:
What are Some of Stamps.com's Other Features?
At Stamps.com, you can do more than just print shipping labels. You can add messages to your labels, hide your shipping costs from your customers, print in larger batches, email your customers with tracking updates, and import order information from many large eCommerce sites, including Amazon.
Beyond that, the following features may help streamline your shipping processes:
Postage Wizard: Stamps.com Pro has a postage wizard that helps youShipper orders by offering a step-by-step guide to help you pick the right package sizing, wait etc.
Print Postage on Envelopes: Stamps.com allows you to print directly on envelopes which is very convenient for people who ship stickers and other small items that they may want to use an envelope for.
Print Postage Stamps: Don't have time to stop by the grocery store to pick up a booklet of stamps? Well with stamps.com you can print your own stamps online.
Print International Postage: International shipments can be a pain especially if you go to the post office and have to fill out all the paperwork manually. The nice thing about using a shipping software like stamps.com is that you can print out the International Postage and Customs form in one step without having to fill it out manually by hand.
USPS Pickup: Usually you have to schedule a USPS pick up online, but with stamps.com software you can easily schedule it straight through their interface which is a nice feature that cuts out an extra step.
Refund labels: it's very common to make a mistake on a label and to need to do a reprint. In this case, you can easily refund your label with a mistake and print out a brand new one.
Search Order: this is a nice feature if you need to manually look up a tracking number or specific order.

How does it work?
Though the interface has changed a little, here is a quick overview of how you would print a shipping label with their software:
Pros:
For a full list of pros, see the review box at the end of this post.
You can skip those trips to the post office by printing your own shipping and scheduling mail pickups at your home, office, store, or warehouse.
You and your customers can track your packages through the system.
Address validation software helps to prevent the number of packages that get lost or are returned to you.
If you ship in large quantities, you save money on shipping.
You can import all of your Amazon orders.
You can take advantage of a free trial and cancel at any time.
You can purchase shipping for all types of mail online, while other services only allow you to purchase priority mail rates.
Cons:
There's a monthly fee which means even if you aren't selling as much in January as you did in December, you still have to pay.
Once you cancel, you lose access to your account, including all of your previous shipping history.
Stamps.com software is only suitable for use with Windows PCs.
Is it worth it?
At the end of the day, only you can determine whether Stamps.com is worth it. How much you ship, whether or not you currently use the USPS, whether you use insurance, and how much time you spend at the post office each month may all play a role in your decision.
However, if it will take some of the pain out of shipping your products, you may find that it's at least worth signing up for the free trial.
Overview
Stamps.com is a great shipping solution for eCommerce sellers. Whether you have your own online store or you sell on popular marketplaces like Amazon, eBay or Etsy, you need a shipping software to speed up your workflow. It can save you tons of time with your shipping processes. If you find yourself shipping every day, you likely need a shipping software to speed up your workflows. If you are still going to the post office to ship your orders, and your orders are growing, you should change your mindset towards efficiency and growing your business. Stamps.com can be the solution you are looking for. It is one of the most popular shipping options, and for good reason, it works great! One cool feature with stamps.com is you can get a free shipping scale with signup! Endicia does not offer this – Granted, they are the cheapo scales you can get for $15-30 on eBay, it is a nice touch.
Selling Channel Integrations
Other Business Software Integrations
Pros
Auto import from Amazon, eBay and Etsy
Other eCommerce integrations
Quick and easy shipments
Bulk / Batch shipment processing
Multiple reprints if needed
Easy International Shipping
Mac and PC compatible
Update: You can do batch shipping on mac via the online shipping app
Cons
Less features for Mac users - No dedicated mac application
Stamps.com software is only suitable for use with Windows PCs. (However Mac users can use the stamps.com online interface)