Whether you sell on your own e-commerce store, on Amazon, or through a variety of sales channels, you will most likely find that fulfilling your customers' orders is a task too overwhelming to handle manually, without the aid of shipping software.
That's where a product like ShipStation comes in. A favorite with many online sellers, this cloud-based shipping solution offers a lot of flexibility compared to other shipping software on the market. In addition to Amazon, it works with a variety of platforms, shopping carts, shipping companies, and retail sites. ShipStation can be your one-stop shipping solution to streamline and organize your entire fulfillment process from start to finish.
I personally have tried just about every shipping software imaginable. I ended up choosing ShipStation, mainly because of its superior bulk order processing and ease of multi-channel fulfillment. After 3+ years of using ShipStation every single day to fulfill orders, here are my impressions of the shipping software:
What is ShipStation?
In short, ShipStation is a web-based shipping software that lets you import, manage and ship your orders from a variety of e-commerce selling channels and marketplaces.
How Does ShipStation Work?
Many users consider ShipStation the ultimate software in shipping fulfillment because it handles practically everything you need to do to fulfill an order. The following is a quick overview of how ShipStation works:
You connect your stores: First, you connect your selling channel(s) so that ShipStation can start automatically importing your orders.
Setup your shipping carriers: Depending on your business and the items you ship, you can choose to set up one or multiple of the following shipping carriers: USPS, FedEx, UPS, Stamps.com, DHL, etc.
Setup your shipping presets/ processes: Setup is pretty easy with ShipStation. As soon as you sign up for a subscription (check out their free trial subscriptions) you are able to quickly set everything up to your liking. Best of all, you can customize the process from beginning to end so that ShipStation works for you and not the other way around.
Import Orders: Each day, it pulls all of your orders from all of your selling channels into a convenient dashboard. It allows you to organize your orders and apply shipping presets & preferences.
Ship orders: After ShipStation import the orders from your store, you can start printing your orders, either one by one or in batches (best way). ShipStation prints out everything you need, including shipping labels, return labels, packing slips and more (you decide). When you go into settings, you can customize these things as well.
ShipStation sends shipping confirmations: Finally, it can automatically send your customers an email with the status of their product, along with tracking information. It also communicates this information back to your e-commerce store (Amazon, WooCommerce, Shopify and more) so that it marks the order as shipped within your selling channel.
The shipping process
Sometimes seeing the process is better than explaining it. Here is a simple overview of using ShipStation to ship an order:
It may seem overwhelming on first look, but trust me, once you get familiar with it (took me about a day), you will be off and running shipping your orders.
ShipStation Features

ShipStation can do a lot, but here are some of the noteworthy features:
Web-Based Shipping: No need to worry about updates, platform compatibility (mac vs win) or any other headaches with standalone applications. All you need to do is log in to their web app and you are ready to ship orders.
Multiple Selling Channels: Whether you sell on a Shopify store, WooCommerce store, Squarespace, eBay, Amazon, Etsy, or all of the above, ShipStation has the built-in integration to nearly every selling channel available. Easily integrate one sales channel to import orders, or connect multiple selling channels.
Quick Setup: ShipStation allows you to get up and going very quickly. Once you set up your selling channels you can start creating shipping labels within minutes.
Ship Fast: ShipStation can literally save you hours fulfilling orders. This is the number one reason I chose ShipStation over the competition. It was the fastest shipping software and had the best batch shipping options. You can pick, pack and ship your orders in record time!
Batch Shipping: Speaking of fast, batch printing of your shipping labels it the fastest way to get your orders to your customers. Print all inserts and shipping labels at the same time for batches of up to 500 orders. This feature is really convenient if you want to quickly handle a large number of orders. Even if you are only working on 5 orders at a time, it will still save you time.
As simple or advanced as you want it to be: One nice thing about ShipStation is you can get up and running quickly, and easily ship your orders without a huge learning curve. However, there are so many options and functionality that if you want to add more advanced presets or workflows, you can easily add those as you continue to refine your order fulfillment processes. This is how I used ShipStation when I started. I started out using the bare minimum of what was capable (because it's really easy) but then started adding more customizations into my workflow.
USPS Discounted rates & Free Stamps.com account: Usually stamps.com costs $15.99-24.99/mo for an account. With your ShipStation account, it comes with a free stamps.com account as well. So really, if you think about it, the combination of the discounted shipping rates and the free stamps.com account, your ShipStation account ends up paying for itself.
Real-time shipping rates: Shipping rates are offered in real time, allowing you to get the best deals.
Mobile Shipping: An app for your iPhone or Android allows you to keep up with shipments via your smartphone. Even if you are away from the office, you can manage orders or push orders through on the mobile app (iOS and Android).
Automation: You can automate and systematize various fulfillment processes. ShipStation software connects with dozens of services. Some of these include mail carriers, retail sites, shopping carts, and extra business tools you might already use, like PayPal and QuickBooks.
Automatic shipping confirmation: In ShipStation settings you can set up custom email templates for shipment confirmation. Then After each shipping label is printed, ShipStation will automatically send to your customers with shipping confirmation and tracking info.
Order retrieval is automatic: There are no manual commands required to import your orders – ShipStation just handles the import order task for you. However, you can also manually click the "refresh" orders button if you just got an order that isn't showing yet.
Returns & RMA: ShipStation allows you to process returns very easily.
Custom Branding: Optionally, you can add custom branding and messages to your shipping labels, packing slips, and confirmation emails.
Free Trial: Software is largely a thing of preference. So the best way to see if it is right for you is to just try it out. If you're on the fence, ShipStation does offer a free 30-day trial.
Batch Processing
Another big advantage of ShipStation is the ability to print your shipping labels in batch. You can print up to 500 orders at a time, with a single click of the button (if all your shipping settings are set up). You can also optionally start by printing out a pick list so you can ensure your products are available and ready for shipment.
Once you've gone through your inventory, you can then print all of your labels and packing slips together for an entire batch. Once your packages are together and sealed, they're ready to go out the door.
This is my absolute favorite feature of ShipStation. When running an e-commerce store that is selling 30+ orders a day, this was a real time saver for my business. There are some other shipping software products out there that allow batch shipping as well, but after trying them all, ShipStation's batch order processing was far superior to the rest. It was the most refined and had the most flexibility. I just really liked the batch shipping wordflow of ShipStation compared to other solutions I tried.
Automation

Besides the batch processing capabilities, my other favorite feature of ShipStation has the ability to automate a variety of processes. Also, you can customize all types of things to fit your own needs.
Since every business is different, you're going to want to automate different things or choose different processes. Shipstation allows you that ability to have the flexibility to make this shipping software one that fits your business exactly as you see fit.
Customizations
You can customize a variety of things with ShipStation:
Email Template: One thing you may end up customizing right away is the shipping confirmation email. You can add your logo, the message, subject and more. You can even add in special hooks like "[recipient name]" that automatically will compile an email with your customer's name, order number and more.
Printing Customizations: You can set up different types of printers (laser, dynamo, inkjet, and m0re), along with various types of document templates. You can also set different sizes to accommodate your shipping label sizes.
ShipStation Integrations
There are many integrations, such as shipping, inventory management, accounting, e-commerce tools, business and more. Here is the full list of ShipStation partners and integrations.
Shipping Carrier integrations

ShipStation doesn't just integrate with your favorite marketplaces and retail sites. You can also use it in collaboration with practically any shipping company or mail carrier. UPS, USPS, DHL, FedEx, Royal Mail, Canada Post, Hermes — there are over a dozen options available. Best of all, they're available no matter which pricing plan you opt for, and you don't have to pay any extra fees to use multiple carriers.
USPS
UPS
FedEx
DHL
Royal Mail
Canada Post
Hermes
Stamps.com & Endicia integration
And more
Marketplaces Integrations
ShipStation is considered a must for anyone who plans to sell on Amazon whether you are a small business just starting out or a larger business looking to grow your audience. Integration with Amazon is seamless, but that's not the only marketplace that allows you to use it.
Amazon (US, UK, CA, AU)
Fulfillment by Amazon (FBA)
eBay (US, UK, CA, AU)
Etsy
Jet
Walmart
Sears
Newegg
Wish
Tophatter
Storenvy
Bonanza
Eleventh Avenue
Rakuten
Groupon Goods
CSV imports
API (create your own integration)
If you sell on eBay, Etsy, Jet, Walmart, Sears, Newegg, Houzz, Bandcamp, Bonanza, Tophatter, Open Sky, or one of the other over 40 options available, you can use the software for every single one without paying any additional fees.
E-commerce Store Integrations (Selling Channels)

Shopify
Shopify Plus
Magento
WooCommerce
Opencart
BigCommerce
Volusion
3dcart
Bigcartel
Squarespace
Weebly
CSV imports
How easy is it to integrate your store?
Some people may be a little intimidated by connecting their store to ShipStation. They think that it would require some technical knowledge to connect ShipStations API to their store. The great thing about ShipStation, is they have created so many ready to go integrations, that the process of connecting your store is a snap. For example, here's how easy it is to connect to your Shopify store (similar processes with all the other selling channels):
Other Tool Integrations
The integrations don't end there. If you use additional third party tools as a part of your business model, you may even find that ShipStation works with them, as well. As a matter of fact, this is one of the top reasons why sellers love the software. Some of the many tools that integrate seamlessly with ShipStation are QuickBooks, PayPal, Stitch Labs, ChannelAdvisor, Mail Chimp, Stripe Relay, Printful, Wombat, Salesforce Commerce Cloud, and dozens more.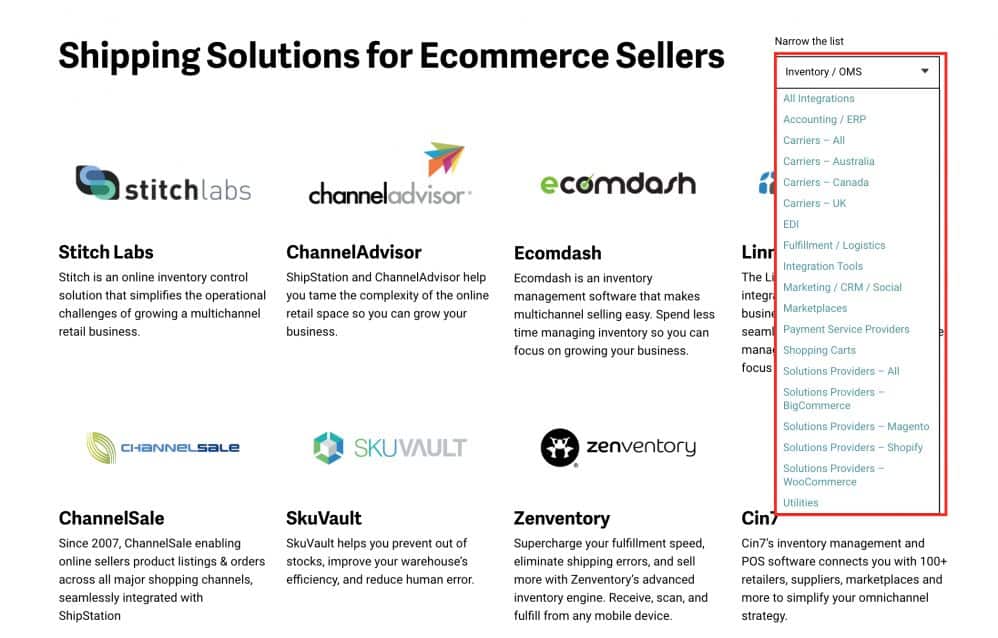 Accounting
QuickBooks
Acumatica
WebGility
Bridge
Connex for Quickbooks
Cloud Cart Connector
and more
Inventory Management
Stitchlabs
Channeladvisor
Ecomdash
Linnworks
Zenventory
Cin7
TradeGecko
Finale Inventory
And more
Marketing
MailChimp
Lime Light CRM
Channeladvisor
Fulfillment & Logistics Providers
ShipBob
Selery
ShipCalm
Ingram
Printful
and more
Automation
Zapier
Webgility
Cloud Cart Connector
E-commerce tools
Channeladvisor
GeekSeller
Astound Commerce
EcomDash
Avalara
Feedvisor
Linnworks
Optiseller
Customer Support
ShipStation offers six-tiered plans, and each one allows the seller access to customer support. Email and community forum support is available at all levels, while the top four tiers can take advantage of a live chat. The top level also offers phone support.
No matter which customer support option you choose, ShipStation's staff has a reputation for being quick to answer your questions so that you don't have to miss out on a moment of growing your business and making a profit.
Benefits of ShipStation

Okay, we get it there are a lot of features to ShipStation. What do all these features mean for me as an e-commerce store owner?
Saves a lot of time: While manual orders can take you all day to process, using ShipStation means finishing all of your shipping processing in mere minutes. This workflow saved me hours of work when I switched from manual order processing (using PayPal multi-order shipping). This also means more time to focus on important tasks like selling and maybe even taking some time off from working on your business every now and then.
Reduces mistakes: One thing I noticed about implementing ShipStation was the reduction of mistakes. After I had been doing the orders manually, implementing the processes of ShipStation reduced a lot of mistakes. There were fewer instances of the wrong item being sent, fewer mistakes of sending the wrong quantity of an item, and more. The ShipStation workflow really helped reduce mistakes.
Systematize & Delegate: Systematizing your business processes is really important because it not only allows you to scale your business but it also allows you to have someone else run the business for you. ShipStation makes it easier for an employee to do the daily operations dealing with order fulfillment. There is less guesswork when you have a shipping process in place (which ShipStation essentially creates for you).
Scalability: Ultimately you want to make your business ready for scalability, even if you don't end up massively scaling your business. Making your business scalable simply means setting the tools and processes in place that not only save you lots of time but create the ability for you to sale if needed. Having the ability to scale your operations massively is important. If your company started growing quickly and all of a sudden your orders quadrupled, having a good system in place can prevent any hiccups during the growth process.
ShipStation vs other shipping software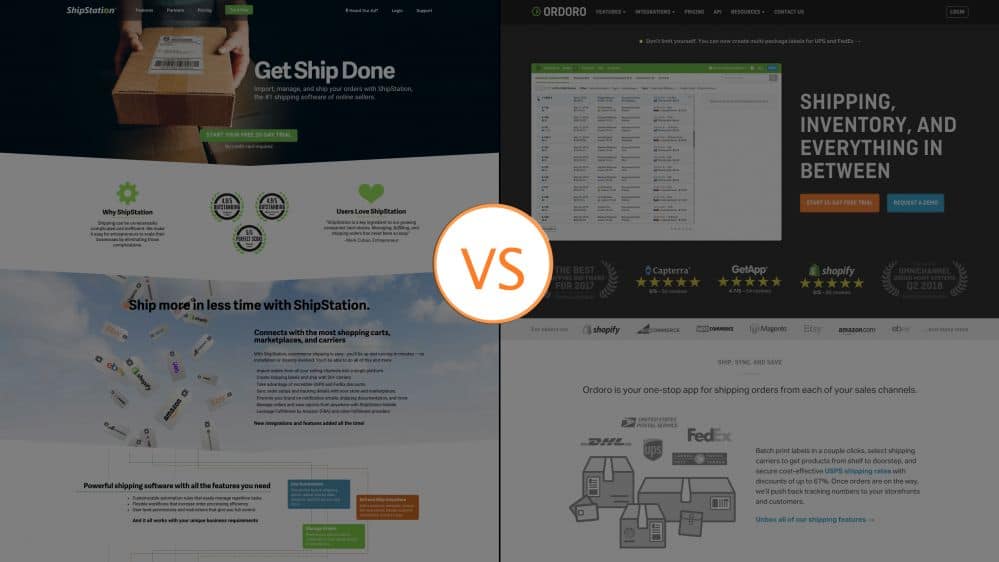 The first shipping software I tried was ShipStation. After using ShipStation for several months, I tried other shipping software. It wasn't that I was unhappy with ShipStation, in fact, I was perfectly happy with it. But I thought that maybe there was an even better one out there because you don't know what you don't know.
So I decided to test out other shipping software, just in case, I could find something better. I tried all of the competing software, such as stamps.com, Endicia, readyshipper, Ordoro and more. In the end, none of the other solutions could even get close to ShipStation. Ordoro was the closest, but ShipStation was still far better for my purposes.
However, this was a few years ago that I tried all the other software to compare it against ShipStations workflows. So it is possible that some of the other shipping software have upped their game (ShipStation is still as amazing as ever). I am not sure about the other companies recent versions of their software. You can try their free trials out if you are curious (Ordoro might be the most worthy alternative to ShipStation).
Note: I tried to keep myself unbiased during this decision. Naturally, people tend to like processes or software they start out with. Since I started out using ShipStation, I knew that I was more likely to be comfortable with ShipStation and may have become biased through this process of trying nearly every shipping software out there. But, I kept an open mind. If I found something that offers a quicker workflow (my main concern) compared to ShipStation, I would have migrated to another company, no problem. However, I didn't find anything that was as fast as ShipStations workflow. There were also some little intricacies that others didn't have, which ShipStation had. The ironic part about that is, I wouldn't have known to look for those differences in shipping workflows if I I didn't first start out with ShipStation first.
So ShipStation was the obvious choice for me and ended up using it for 3+ years every day, with no issues. I would highly recommend testing it out. They actually have a free trial, so you can try it and see if it fits your business processes. Software, after all, is largely a factor of personal preference, so sometimes it's just best to try them out.
ShipStation Costs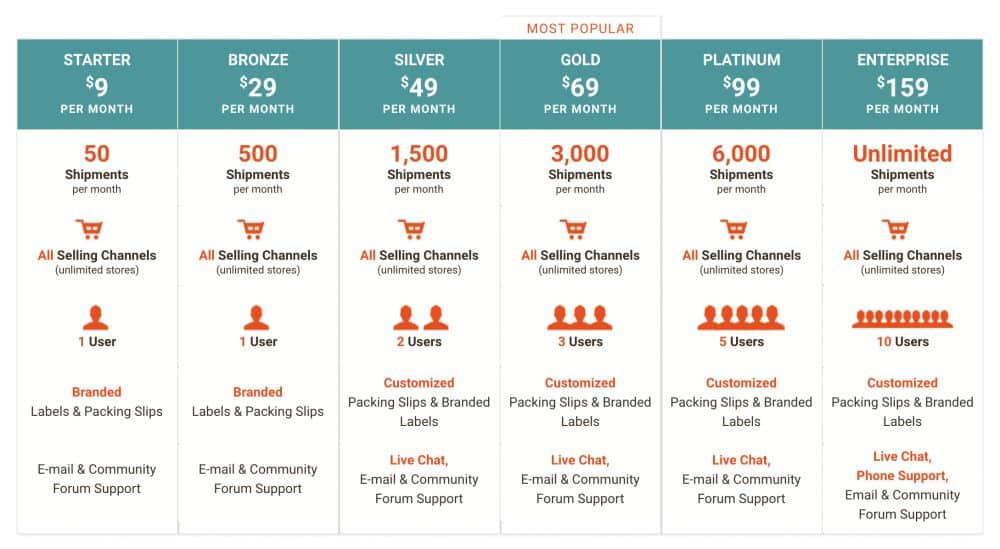 As of June 2018, the starter plan costs just $9 a month, and it's useful for up to 50 shipments per month, unlimited selling channels, branded labels and packing materials, and email and community forum support. Bronze, Silver, Gold, and Platinum levels are also available, with Gold, which is $69 a month, is the most popular.
The top level or Enterprise level is $159 a month, and businesses can take advantage of unlimited shipments, access for up to 10 users, customized packing slips, branded mailing labels, and live chat and phone support from customer service. If you're still not convinced, start with the free 30-day trial with no strings attached.
Starter: $9.00/mo (50 Shipments/mo)
Bronze: $29.00/mo (500 Shipments/mo)
Silver: $49.00/mo (1,500 Shipments/mo)
Gold: $69.00/mo (3,000 Shipments/mo)
Platinum: $99.00/mo (6,000 Shipments/mo)
Enterprise: $159.00/mo (Unlimited Shipments/mo)
Is ShipStation worth it?
The short answer is yes – and for me, it was a pretty big yes.
When I first started using ShipStation years ago, I was selling through a self-hosted e-commerce store, that started to grow pretty quickly. It was a WordPress/WooCommerce store. A business partner and I started out that e-commerce business literally sending each order manually (yikes!).
After using it for 3+ years to streamline our e-commerce businesses, I couldn't live without ShipStation. I would have paid triple their subscription fee (let's hope they don't know how valuable it is to us, so they don't raise the prices on us 😉 ) But it was that valuable to me because it significantly reduced the time to fulfill orders and the occurrences of any mistakes.
These days I don't use WooCommerce much anymore and instead use Shopify and Amazon. For the Amazon sellers, ShipStation also is compatible with FBA orders and multi-channel fulfillment FBA orders! (Multi-channel fulfillment is when you utilize Amazon FBA but on channels other than Amazon).
Any eCommerce business owner who plans to take his or her fulfillment processes to the next level should invest in ShipStation. If you are a new e-commerce store and only have a handful of orders a day (or week), ShipStation is still worth it! Trust me. It even saves time on just a couple orders a day. And besides, it's always better to have good processes in place, before fulfilling orders becomes too much of a hassle.
ShipStation Review: My Impressions after 3+ years of Daily Use
Overview
Out of all the shipping software solutions I have tried, ShipStation was by far the best one. Overall, ShipStation saved me time, headache and it greatly improved my business processes. My favorite features are the batch shipping and a seemingly endless amount of integrations with any store or marketplace. I would highly recommend ShipStation to any business owner, whether you are just starting out or a medium to large size business.
Selling Channel Integrations
Other Business Software Integrations
Pros
Easy to set up, set up your store, etc. (simple operations)
Superior Batch Shipping
Lots of Shipping Carrier Integrations
Lots of Online Marketplace Integrations
Lots of Selling Channel Integrations
Lots of Business Tool Integrations
Superior Processes & Automation
Low Monthly Cost
Considerably Saves Time
Reduce Shipping Mistakes
Scalable
Cons
Slight learning curve
More advanced functions require more of a learning curve & time to set up.