Once upon a time, if you wanted to design your own gear, like clothing, books, and home decor, it wasn't a choice for most people due to the learning curve, product development, product sourcing, and the initial capital investment required.
The old way of selling gear/ products
The old way of selling products require a lot of steps. This is still a valid business model, but it is less passive:
Place A Big Order
Receive The Order
Do Quality Control
Track Inventory
Store Inventory
Sell To Your Customers
Ship Your Orders
Deal With Returns
There are several drawbacks to this type of business model, such as:
Risky: The traditional product development model of business is inherently risky. If you ordered inventory this way, you would receive a ton of inventory, and if it didn't sell, you would be out the cash and the storage space in your basement, garage or warehouse.
Capital Intensive: The old method of selling products is also more capital intensive. Usually, you will have to place sample orders to gauge the quality and then you are typically bound to a minimum order quantity (MOQ), especially if you are branding those products.
Time Intensive: There is more legwork a business must do with traditional product sales. You need to do inventory management, the accounting processes are more complex, you have to deal with shipping and more.
Thankfully, those days of buying bulk amounts of inventory and going through the grueling process of traditional product development are long gone, if you choose the POD model.
Print on demand (POD): Disrupting Ecommerce

We are in a sort of "Print-on-Demand revolution" for business owners. Forget about making money in 3D printing or robotics, it's all about print on demand! Practically any creative person with a computer and a good idea can make a living by designing their own stuff, having it printed on demand and selling it.
Not only that, this isn't a traditional "living" – it's completely passive.
The following are some aspects of Print-on-Demand that make this model very attractive:
Passive Income: Print on Demand offers you the ability to earn a passive income day in, day out. You don't need to create the products, ship the items or do any of these time-consuming tasks.
Low Barriers to entry: Offering products to customers has never been easier. The barriers to entry have been completely broken down with the evolution of agile manufacturing.
Low capital investment: A print on demand business model is such an appealing opportunity because it offers you the chance to earn a passive income without a large capital investment.
So the question is, which POD site should you focus on? There are so many to choose from. If you've been thinking about growing your business with the print on demand model, the following are some of the top print on demand sites available to entrepreneurs and designers:
What to look for in a Print on Demand company?

But first, before getting to the list, you want to define the qualities you are looking for in a good print on demand company. The following points are things I usually consider in choosing a print on demand service:
Leverage their Audience vs Your Own: Do you have your own audience? Do you need to leverage a POD company's audience – or both? There are several methods you could use to sell your print on demand products.
Sell on their marketplace: One way would be to list it on the print on demand service provider's marketplace. Often sites like Redbubble, Zazzle, CafePress, and Amazon will allow you to sell print on demand merchandise on their marketplace. The benefit of this is they have already done all the marketing legwork to attract a large audience.
Sell on your own site: Another way you can sell print on demand merchandise is through your own store (Shopify, WooCommerce, etc).
Large Audience: One important consideration of how good a Print-on-Demand website is, is if they have a large audience. If you are planning on selling your items in a marketplace and reaching a maximum number of eyeballs, having a large audience is pretty important (think Redbubble, Zazzle, CafePress). Though this may not matter as much if you want to sell on your own site, through Ads, Social media or through your email list (think Printful & TeeSpring.)
Wide Range of Products to Sell: While some people may only focus on print on demand shirts, others want a healthy variety of products to choose from. The product offering is one of the main things I look at besides margins. You can make more money if you offer your designs on a greater variety of products.
Low Base Price (High Margins): Along with a large audience of buyers, receiving a good margin on your products helps your bottom line. So how do you achieve good margins? It's all about the base price and the retail (market) price.
Example POD Profit per product:
Base Price: $9.99
Retail Price: $15.99
Profit: $6.00
The base price is what the print on demand company will sell you that item for. For example, if a print on demand company would sell you an item for $9.99 and you sold it for $15.99, the base price would be $9.99.
The retail price, in this case, would be $15.99. The lower their base price and the higher the retail price is (how much you can sell an item for), the higher profits you will receive. It's not easy to make money when your costs are so high that you can't sell for a decent price.
So at the end of the day, you want to have the lowest base price possible to maximize your profits.

Good Design Software: This aspect isn't as important to me personally since I use Adobe Illustrator for designs. Most people who are serious about the print on demand business will use a professional design software like illustrator, photoshop or Inkscape since good design software allows for the most customizations.
But if you aren't using a more professional design application like Illustrator, you want to make sure their online app to create the designs is fully functional!
Many of the print on demand sites offer a web app to design you print on demand products. If you opt to use a free provided design app, you want to make sure it is good enough to create the designs to your liking.
Best print on demand websites
1. Redbubble

There are many sites like redbubble on this list, however, red bubble is by far the most popular print on demand site. To find the popularity of each site, I looked up the traffic of each website to have an overview of which site got the most traffic.
Redbubble was the clear winner (see below). This is a valid reason to choose redbubble as your main print on demand marketplace since having a large audience is an important consideration when you are planning on selling through a marketplace.
The POD marketplaces will likely be the main source of traffic for many people. It makes sense then to choose a high traffic print on demand marketplace as the mainstay of your print on demand business.
Besides traffic, Redbubble has a huge selection of products to choose from. Here are some items you can sell with Redbubble:
Products you can sell on Redbubble
Acrylic Blocks
Art Boards
Art Prints
Canvas Prints
Clocks
Drawstring Bags
Dresses
Duvet Covers
Framed Prints
Galaxy Cases & Skins
Greeting Cards
Hardcover Journals
iPad Cases & Skins
iPhone Cases & Covers
iPhone Wallets
Laptop Skins
Laptop Sleeves
Leggings
Metal Prints
Mini Skirts
Mugs
One Piece – Long Sleeve
One Piece – Short Sleeve
Pillows & Cushions
Postcards
Posters
Scarves
Spiral Notebooks
Stickers
Studio Pouches
Sweatshirts & Hoodies
T-Shirts
Tank Tops
Tote Bags
Wall Tapestries
Example Base Prices
11 oz Mug:  $12.50
Classic T-Shirt: $16.25
If you are interested in seeing a full list of base prices, check out Redbubble base price list. Most other print on demand companies do not offer a comprehensive, up to date, list of products & base prices. Don't ask me why, because this is useful information for sellers. Redbubble has gone through the trouble of creating a nice table of products.
2. CafePress

Even people who aren't looking to use print on demand for their merchandise, have probably heard of CafePress. That's good news for those looking to sell print on demand products. This means your items have a wider audience without as much effort on your part. It also means the prices are lower, and there are so many options when it comes to items to print.
CafePress is not only one of the oldest print on demand sites on this list, but it also has one of the biggest variety of products you can sell.
Whether you already have a booming brand or you are just starting out, the site will even help you set up your own shop. You can start right away by designing products to sell or quickly design products with your logo.
Products you can sell on CafePress
The following list may seem small, but within each of these print on demand product categories contain many products to choose from.
New Products (such as car magnets, dog hoodies, etc)
Apparel
Baby
Stickers, Buttons & Magnets
Housewares
Posters, Prints & More
Hats & Bags
Books (Bindings include Saddle Stitch, Wire or Perfect Bound
Example Base Prices
11 oz Mug: $10.99
Men's Classic T-Shirt: $15.99
Check out CafePress' list of all products and base prices to see more.
3. Zazzle

Zazzle is probably one of the most well-known print on demand sites on the list, which can work to your advantage because it has a large audience. Zazzle also offers one of the largest selection of print on demand products on this list.
It also has over 1,300 items available for you to take advantage of, so there is almost no limit on how much you can create. There so many products you can choose from, you may not know where to start! The site even gives you tips on how to improve your print on demand products.
Products you can sell on Zazzle
The following list is by no means a complete list of Zazzle products. However here are some example products you can sell on Zazzle.
Invitations & Stationery: Invitations, Greeting Cards, Return Address Labels
Home: Mugs, Pillows, Magnets
Clothing: T-Shirts, Leggings, Baby Clothing
Accessories: Hats, Buttons, Tote Bags
Baby & Kids: Blankets, Nursery, Art Bibs
Weddings: Signs Favor, Tags, Wine Labels
Crafts & Party Supplies: Stickers, Banners, Fabric
Electronics: iPhone Cases, Mouse Pads, Keyboards
Sports & Games: Playing Cards, Skateboards, Golf Balls
Office: Business Cards, Small Business Supplies
Wall Art: Posters, Canvas Art, Wood Wall Art
Example Base Prices
11 oz Mug: $14.95
Men's Basic T-Shirt: $17.95
(or Men's Value T-Shirt): $14.95
4. Merch By Amazon
Merch by Amazon is a fairly new service which Amazon started in 2015. Their main focus has been on t-shirts which can be limiting for those who want to sell mugs, beach towels and more.
Current limitations of Merch by Amazon
Invitation only: Also another limiting aspect to merch by Amazon is that the service is invitation only.
Limited Products: Though Amazon started to include more products in their print on the demand catalog, their product offering is still very lacking compared to redbubble and other pod sites.
Merch by Amazon is perfect for those who want to focus on t-shirts. Since you are selling on Amazon you have access to millions of their customers.
Though Amazon will probably start adding more products in the future, the following are the some of the products that you can sell with merch by Amazon currently:
Standard T-Shirts
Long Sleeve T-Shirts
Pullover Hoodies
Sweatshirts
PopSockets Grips (for phones)
5. Printful

Besides Redbubble, Printful is one of my favorite print on demand services on this list because it allows for a lot of flexibility when selling your products.
What I mean by that is, Printful operates on a slightly different POD model than the rest of the sites on this list. Instead of using a common print on demand service + marketplace (like Zazzle, CafePress, and Redbubble), Printful is more geared towards website owners.
For example, if you have a WordPress blog and decided you wanted to sell some gear on your website (without the hassle of traditional wholesale), you could install WooCommerce and instantly turn your site into a fully automated e-commerce store. Printful integrates directly with WooCommerce, among others.
Printful works in tandem with your website or e-commerce platform, where you actually sell your merchandise. Printful will handle all the product creation (print on demand), inventory and shipping (drop shipping). All this allows you to have the majority of the business operations automated so that you can focus on selling and marketing your products.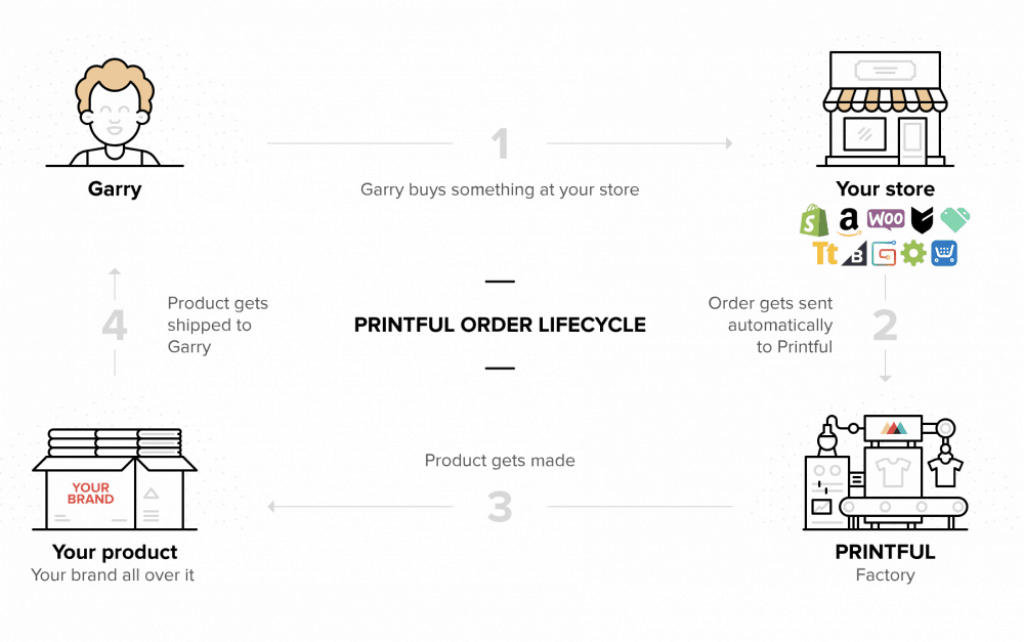 Printful works with a variety of different e-commerce platforms. So whether you sell on WordPress (WooCommerce), Shopify, Bigcommerce, Squarespace or nearly any other platform, Printful will likely integrate with your chosen ecommerce platform.
Printful is one of the few print-on-demand sites that has been around for nearly two decades, and it's a great option for anyone who sells elsewhere but still needs items printed. Printful also has a reputation for offering a large selection of products to sell, as well as some of the highest-quality printing in this niche.
Products you can sell on Printful
Here are some example products you can sell on Printful
Men's clothing: T-shirts, Hoodies, Sweatshirts
Women's clothing: T-shirts, Hoodies & sweatshirts, Leggings, Skirts, Dresses, Swimwear, Sports bras
Kids & youth: T-Shirts, Leggings, Baby bodysuits
Accessories: Hats, Beanies, Visors, Bags, Phone cases, Socks
Home & Living: Aprons, Mugs, Pillows, Wall Art, Beach Towels, etc.
Example Base Prices
11 oz Mug:  $7.95
Classic T-Shirt: $8.95
Even if you sell on other marketplaces, I always recommend people set up a Free Printful account, set up a quick WordPress site, install the Printful plugin (this will display all your designs on your site), and start selling on your own domain.
This allows you to sell directly on your website, generate traffic that you own, and diversify your income without much extra work.
6. TeeSpring

Graphic tees are hot, and one of the most popular items for print on demand. If that's what you're setting out to do, you can't go wrong with TeeSpring. Though TeeSrping started out focusing on T-Shirts, they have grown and now include many more products besides Teeshirts. Beyond shirts, TeeSpring prints many other types of clothing, home decor, and special gift items.
TeeSpring is another Print on demand service that offers a different POD model. Rather than creating a design and assigning the design to a product(s), you would create a campaign, which you then promote to generate sales.
TeeSpring's process looks like this:
Creators design & launch products: You design a product (like a Tshirt) and create a campaign. This campaign may have different lengths of time or various degrees of minimum order requirements (to trigger a successful campaign). You then promote your product through various channels, such as social media and email marketing.
Customers Order: Customers then order your product. If the number of customers meets your set minimum quantity for the campaign, then TeeSpring will create and ship the orders.
TeeSpring makes it and ships it: All you do is send in your design, your pricing plan, and your sales goal, and they handle the rest, down to shipping out your orders and customer service complaints if they arise.
Since this is such a radically different process than the other typical print on demand vendors, here are some common questions about TeeSpring, which hopefully clears up any confusion:
How is TeeSpring Different?: TeeSpring works by starting a campaign. Unlike other sites where you typically just list your products with your design for sale, with TeeSpring you start a campaign with or without a time limit. You can also set a minimum number of products to allow the items to be printed and shipped.
Do you have to set a time limit?: You can choose to set the campaign length anywhere from 4-21 days. However, you can also set the campaign to "always available," which would allow your campaign to always run.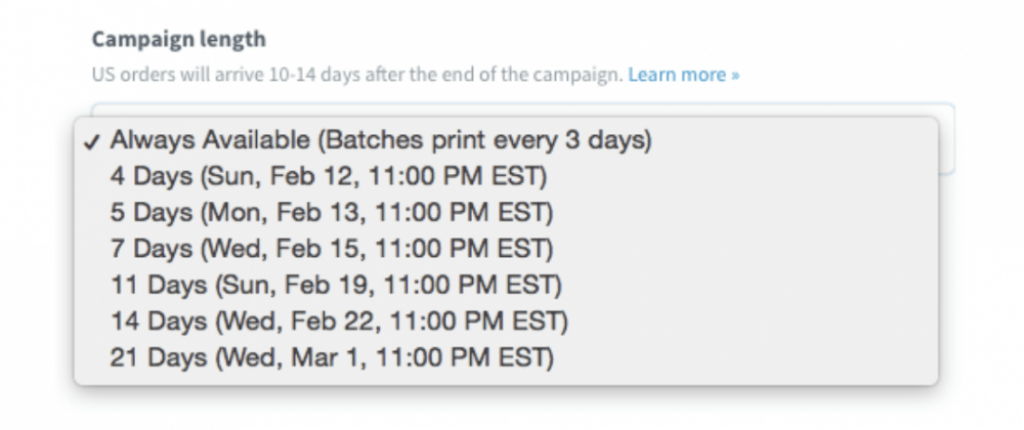 Is there a minimum number of products that need to be sold for the campaign to be successful?: There isn't a minimum number of products, however, you can set a minimum number of products required to trigger a successful campaign (the customers will be charged and the items printed & shipped to customers).
How do you drive sales, is it through a marketplace like redbubble? This is where TeeSpring is different than sites like Redbubble. The typical way people drive sales to a TeeSpring campaign is through paid ads (via Social Media), Email Marketing, or through your own audience. For example, if you have a cool design you or a graphic designer created, you could target certain people with a Facebook ad.
Tees
Hoodies
Tank Tops
Kids & Baby
Accessories
Mugs
Homeware
Example Base Prices
11 oz Mug:  $7.95
Classic T-Shirt: $8.00
7. Design By Humans

Design by Humans is more of a community of artists looking to support each other than anything else, which can be great if you're an artist having a hard time making money on your creations. After you receive your approval, you'll have access to all kinds of perks. Beyond that, Design By Humans also offers international shipping and handles the whole process for you.
8. Custom Ink

This is one of the best print on demand sites for beginners. Not only is it easy to use and reputable, but it allows you to set up fundraisers so that people can invest in your products and you can grow your business.
9. Sunfrog

Sunfrog is another great option for anyone who is new to print on demand, mostly because of its tutorials. They can really help you turn your items into a profitable venture. The site deals mostly with apparel, like tees and hoodies, but it has a decently sized audience and is popular for its low prices.
10. TeePublic

TeePublic is another good option if you're looking to get into the tee printing business — though you can print other items like laptop cases and wall hangings. Some people like TeePublic because it is a bit more on the quirky side & the community aspects. Like Design by Humans, it's all about supporting the artists and fostering your creativity. Their customer service is always highly-rated.
11. Spreadshirt

Despite its name, you can print much more than shirts at Spreadshirt. The site is one of the easier ones for people who are new to the print on demand world to use. The other items up for sale are also a great place to look to see what's hot right now.
12. Fine Art America

You won't find shirts or any other type of clothing on Fine Art America, but that might be a good thing if you're more into art and home decor. The site also allows you to print items like phone cases and beach towels. You can license your art or sell the rights, as well as set your own prices here.
Print-on-Demand Site Comparisons
Popularity & Traffic
How do you find the popularity of a website or brand? Well without looking at each companies Analytics data (proprietary) to see real traffic values & customer base, I use two methods to gauge popularity: Branded searches and website estimator tools.
Branded searches comparison:
First, we can take a look at the free tool by Google, called Google Trends. I had to do three different comparisons because Google trends only allow comparing 5 terms at once. I left Redbubble in for each comparison so we could use the blue line (redbubble) as a measuring stick for comparison (since it is the most popular site).
All the other sites like redbubble are shown in different colors. We can see from the graphs below, there are higher branded search terms on Google for Redbubble compared to all other print on demand sites.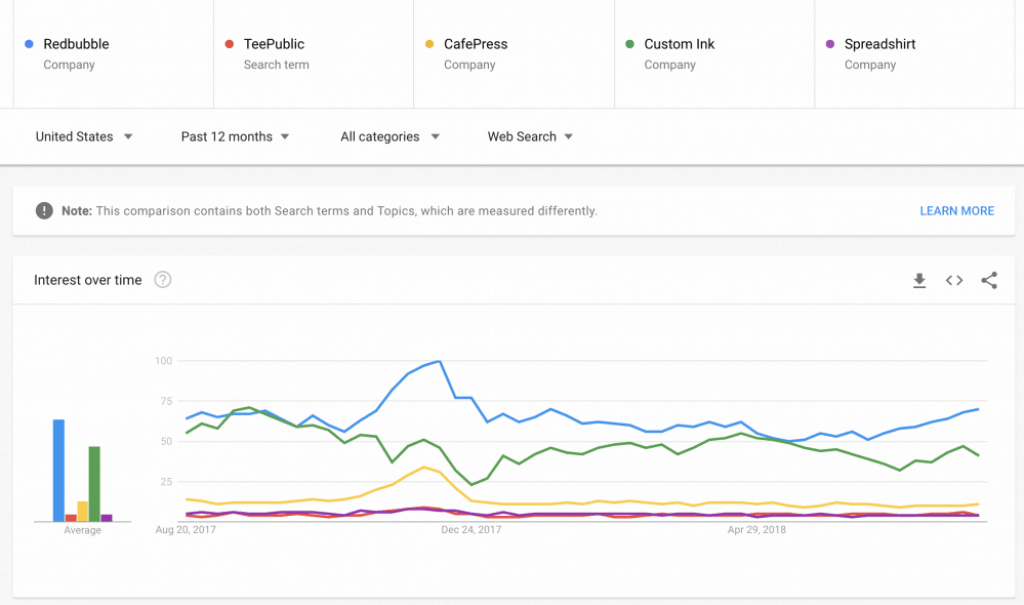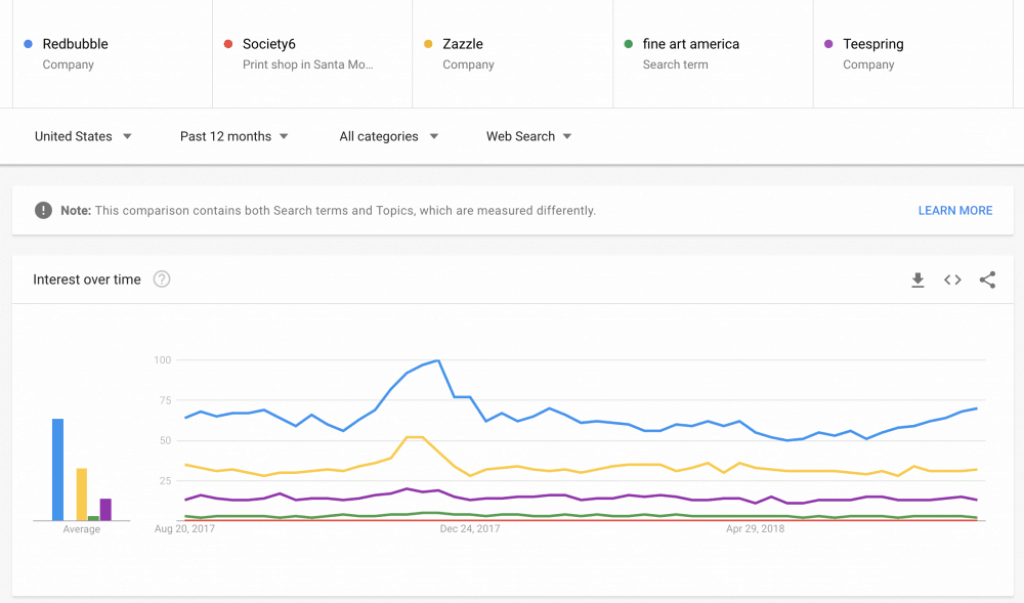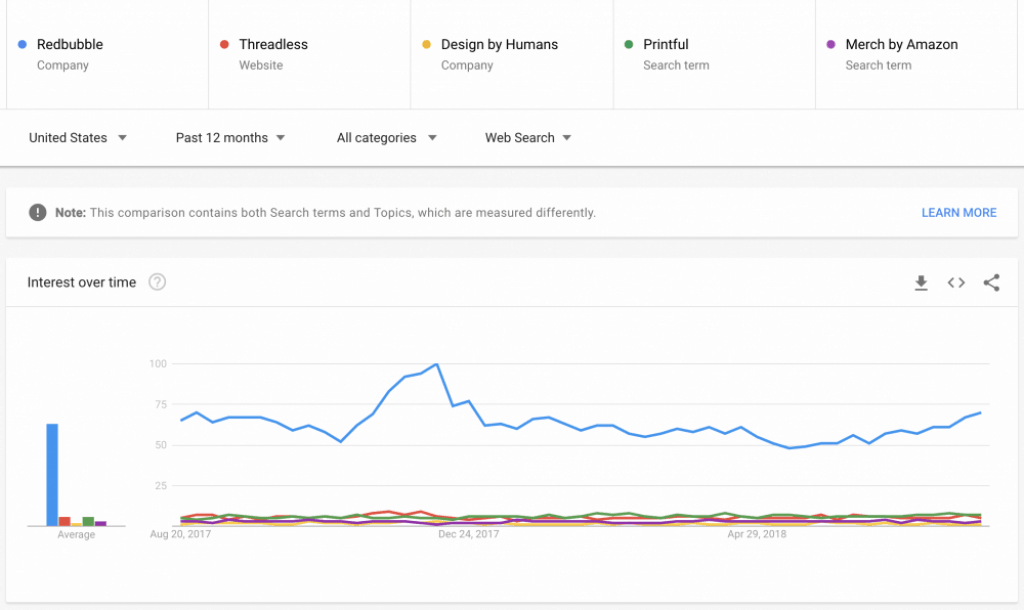 Traffic comparison using website estimator tools
To get an even better estimate of popularity, I like to look at the estimated traffic levels between each site. The following traffic numbers are traffic numbers given by Ahrefs. This tool gives a good relative, comparison of traffic.
(Note: these are not actual traffic numbers. The real traffic is much higher. For example the real google analytics data would show much higher numbers. These numbers are however a good way to see which sites are more popular, comparing to each other. Ahrefs and other SEO tools use their own calculation, thus their own traffic number. But it is pretty accurate when you compare sites to one another. )
2018 Traffic Popularity: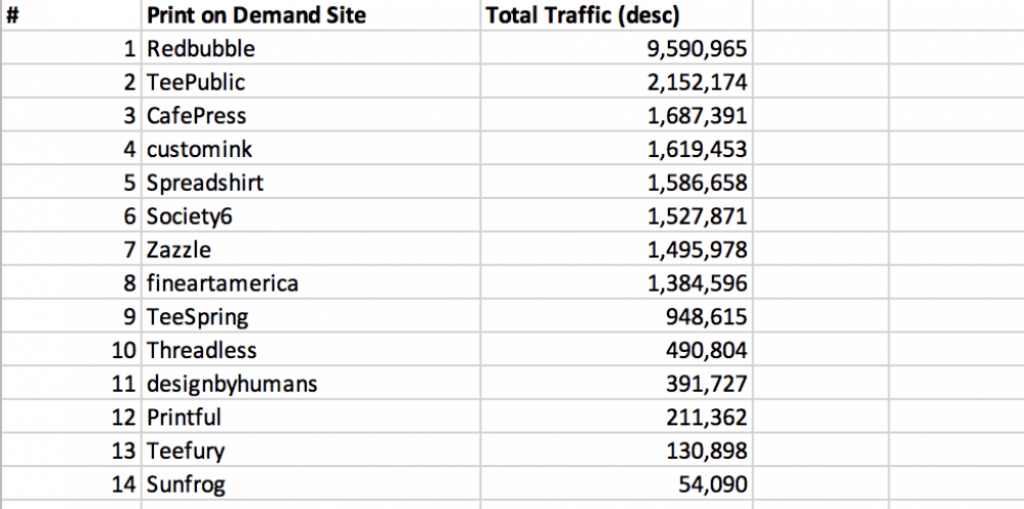 2019 Traffic Popularity: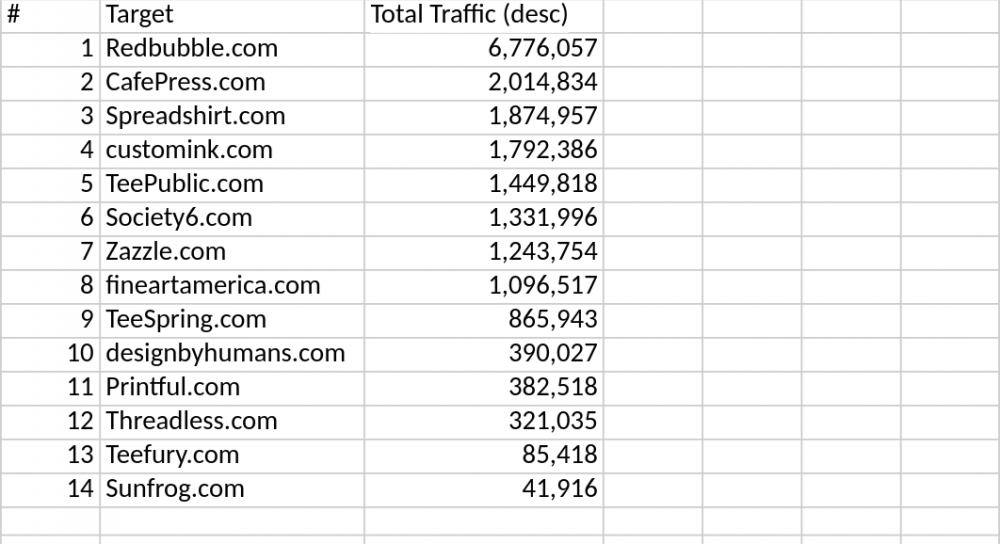 Update for 2019: Note that it looks like Redbubble's traffic decreased pretty significantly, due to one of Google's algo updates from 2018. They just need a simple SEO nerd like me to tell them what to tweak to fix traffic, and it would literally increase their earnings by millions 🙂 Despite this, Redbubble is still the top dog in terms of traffic.
As you can see, the numbers corroborate with the Google trends data, but not exactly. For example, it appears in the Google trends data that Custom Ink is the second most popular. It was the 4th popular site according to the traffic estimates. One explanation for this difference could be that when people type in "custom ink" into Google, people could be referring to custom tattoos or something other than the POD company – CustomInk.
Note that if we were to look at the exact numbers in these companies analytics (again we don't have access to that), we would likely see much higher traffic numbers. The traffic numbers from ahrefs is an underestimated figure, used to simply act as a measuring stick between other websites.
If you want to learn more about the traffic accuracy of these tools, or what the best website traffic estimators are, I wrote a couple posts about traffic estimation tools on my other blog (I blog about SEO, called SocialPatterns).
Winners (as of 2019)
Redbubble.com: 6,776,057 (the clear winner)
Other sites like redbubble
The following POD sites and their traffic levels, in descending order (users per month):
| | | |
| --- | --- | --- |
| Rank | POD Site | |
| 1 | Redbubble.com | 6,776,057 |
| 2 | CafePress.com | 2,014,834 |
| 3 | Spreadshirt.com | 1,874,957 |
| 4 | customink.com | 1,792,386 |
| 5 | TeePublic.com | 1,449,818 |
| 6 | Society6.com | 1,331,996 |
| 7 | Zazzle.com | 1,243,754 |
| 8 | fineartamerica.com | 1,096,517 |
| 9 | TeeSpring.com | 865,943 |
| 10 | designbyhumans.com | 390,027 |
| 11 | Printful.com | 382,518 |
| 12 | Threadless.com | 321,035 |
| 13 | Teefury.com | 85,418 |
| 14 | Sunfrog.com | 41,916 |
I wanted to point out the best marketplaces for purely print on demand purposes. However, due to Amazon's massive userbase, Merch by Amazon will likely soon be a go-to POD marketplace. I'm sure Amazon will become a dominant force in this POD market due to their clout. It will just take some time for Amazon to fully roll out their Merch by Amazon Program (i.e get rid of their invite-only sign-up and increase product selection).
Note about Amazon exclusion: Amazon would be the true winner when it comes to traffic, however, merch by Amazon is relatively new and most of Amazon 's traffic is geared towards other physical, non-Print-on-demand products, so I left Amazon out of this comparison.
Product Selection
The following 3 sites had a very good amount of products to choose from:
Lowest Base Price
TeeSpring (winner)
Printful
Remember that the base prices were as follows:
Printful Example Base Prices

11 oz Mug:  $7.95
Classic T-Shirt: $8.95

 TeeSpring Example Base Prices

11 oz Mug:  $7.95
Classic T-Shirt: $8.00
The secret to success: Using multiple POD sites
So there you have it, these are some of the best print on demand sites in existence. The choice is yours, which one you decide to go with. However, keep in mind that you can also choose a handful of the print-on-demand sites to list your products. Most of the POD sites are free to list your products and sell on their marketplace.
So what POD site are you most likely to make the most money? Well, it depends on the situation and is not so black and white. Typically you want to choose the highest traffic sites. However, those could also be the most competitive (other sellers flock to it, offering a lot of great designs).
It could be that you make more on Redbubble due to the traffic. Or you could end up making more on CafePress because you were able to find a niche that had lower competition.
It really all depends on the website, and it helps to test many Print-on-demand marketplaces out to maximize your sales. You can always choose a handful of POD sites to focus on in the beginning and as you grow, expand into other marketplaces.
Hopefully, this list of best print-on-demand sites helped you make a decision on which ones to focus on in the beginning.
Let me know what you think – which one do you like the most? Which one(s) did you choose? Am I missing any other good POD sites that should be on this list?