Godaddy Bookkeeping has been around for a while, though you may know it as its former name, Outright. Either way, it remains an excellent choice when looking for accounting software for Amazon sellers and anyone else who has an Amazon selling account.
GoDaddy bookkeeping allows you to easily link your Amazon seller account to the GoDaddy bookkeeping software within minutes.
The software is easy to understand and doesn't require too much effort to use. It handles your basic financial & accounting needs when selling on Amazon.
Can you use GoDaddy Bookkeeping With Amazon (FBA)? Required Account types

Amazon Accounts that are supported:
Professional Seller account
Amazon Marketplace Sellers (note that you will need to manually request your settlement reports on Amazon)
Amazon accounts that are not supported:
Individual Seller accounts
payments by Amazon and checkout by Amazon
Non-US Accounts
Note: Individual seller accounts are not compatible with Godaddy Bookkeeping.
If you want to utilize the automation and importing of your data into GoDaddy bookkeeping, then you need an Amazon professional seller account. Otherwise, if you have an individual seller account, you can always export the data or input it manually.
However, the automation that you get from GoDaddy bookkeeping and connecting with your Amazon seller account is worth the price of the Amazon professional seller account, especially if you are selling enough products.
So is this a limitation that GoDaddy has? No, it's a limitation on Amazon and their APIs. Most software that connects to your Amazon account will need to utilize the MWS APIs, which requires a Professional account — another benefit of a professional seller account.
Who is Godaddy Bookkeeping for?
Godaddy Bookkeeping is a favorite for beginners because of its ease of use. It's also ideal for people who don't sell a large volume of items. Even if you have plans to expand your business in the future, you may want to use it to get started. You can always move up to one of the bigger software brands when and if the time comes.
Keep in mind that only Amazon FBA sellers with Pro accounts or Amazon Marketplace sellers can use the Godaddy software. Individual accounts, accounts outside the United States, Payments by Amazon, and Checkout by Amazon are not supported by the program.
Godaddy bookkeeping amazon integration
Amazon integrates directly with GoDaddy bookkeeping to make your bookkeeping processes simple and animated. The following are some benefits that you receive when you integrate GoDaddy bookkeeping with your Amazon account.
Automate Amazon accounting: GoDaddy bookkeeping will automatically organize and categorize your Amazon sales, credit card transactions and your bank account data.
Organize Amazon sales: GoDaddy bookkeeping allows you to organize your Amazon sales and expenses and one convenient location.
Automatically imports Amazon fees: Not only are the profit/commissions of your Amazon sales automatically imported into GoDaddy bookkeeping, but so are the Amazon seller fees! This is a very convenient feature that not all accounting software have.
See how your business is doing: though the reports offered may not be as comprehensive as something like QuickBooks would offer, Godaddy bookkeeping does offer several reports that show your income and expenses along with several other graphs to visualize the growth of your business.
How to link Godaddy Bookkeeping with Amazon

It's really easy to get GoDaddy bookkeeping working with Amazon. follow the steps below and within minutes you'll be having your Amazon Seller data imported into GoDaddy bookkeeping.
Login to GoDaddy Bookkeeping
Click manage at the top corner
Go to Linked Accounts
Click on the "add an account"
Choose the Amazon seller central option
Enter your Merchant ID/ Marketplace ID
Start importing!
What are some pros and cons of using GoDaddy bookkeeping?
Like any accounting software, GoDaddy bookkeeping has its pros and cons, but if you're looking for something that isn't complicated, you'll find that they are mostly pros.
Pros:
Godaddy Bookkeeping is easy: This accounting software is really easy for anyone to use. You don't have to be tech-savvy or have any previous accounting knowledge.
Imports Data from multiple sources: It imports data straight from your bank accounts, Amazon account, credit cards, PayPal, and other financial institutions if you have an Amazon Pro account.
Tracks COGS: Godaddy bookkeeping software tracks your cost of goods sold.
Automated Amazon FBA Accounting: Godaddy Bookkeeping integrates seamlessly with your Amazon account to automatically import your financial data.
Inexpensive: Godaddy is a relatively inexpensive monthly subscription for an Accounting software. It starts at $4.99 per month and goes up to $14.99 per month.
Makes Tax Time Easier: The software makes tax time easier with prepared reports you can print and hand to your accountant or import into your tax software. You can also export to use the data in excel if needed.
Cons:
Too Simplistic: For some people, Godaddy may be too simplistic or it may lack the sophistication needed to run a big booming business.
Doesn't work with individual seller accounts: It does not work with individual seller accounts or accounts outside of the United States.
Doesn't show COGS at the item level: While Godaddy Bookkeeping allows you to track your cost of goods sold, it doesn't show COGS at item level.
GoDaddy Bookkeeping Cost
Three tiered plans start at
"Get Paid" Basic Subscription: $4.99 per month
"Essentials": $9.99 per month
"Premium": $14.99 per month
Sometimes you may receive a discount on your first month. For example, they are currently offering a 20% discount: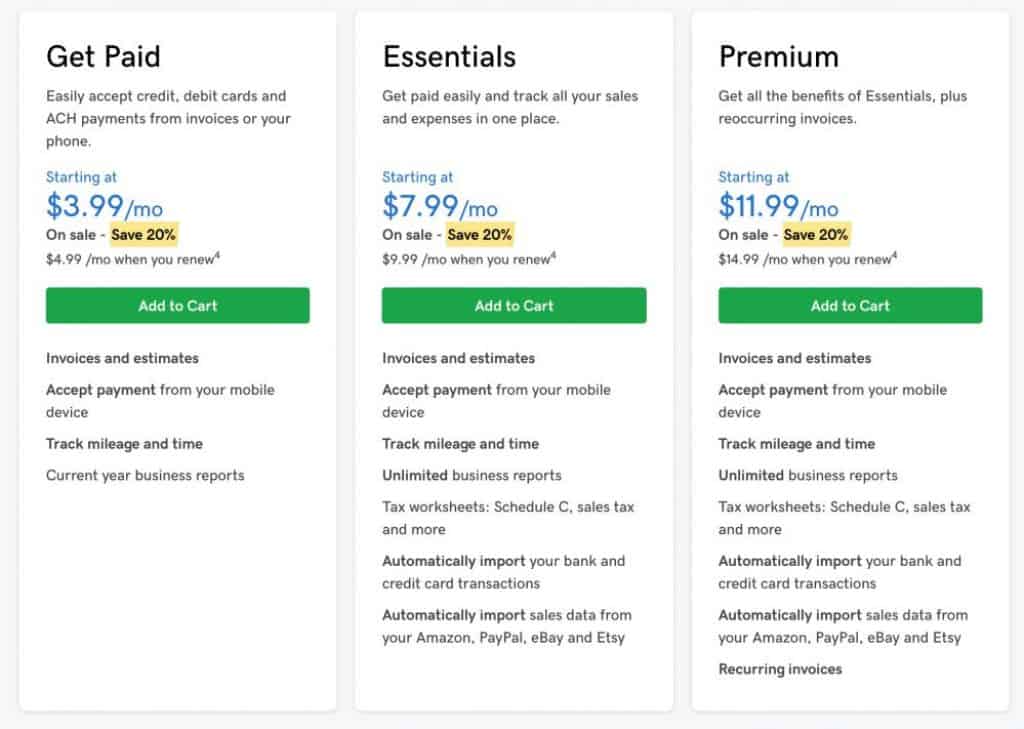 No matter which plans you choose, you can manage your financial information, accept payments, automatically create and send invoices, view business reports, and get started as soon as you've set up your account.
What Else Should You Know About GoDaddy Bookkeeping?
In addition to all the benefits listed above, GoDaddy can help you get your Amazon accounting organized, in no time. This allows you to focus on the important part of your business: making sales.
Profit and loss reports are available any time you want to take a look at them to see how your sales match up against your expenses. You can also break down your customer base by individual or state.
Godaddy Bookkeeping is also secure with its 256-bit data encryption. It's the same security measures most banks use. Your data is stored in the cloud so that you can access it anywhere at any time. As a matter of fact, the Godaddy app makes mobile access to your Amazon seller account easy to obtain on the go.
Are there any better options?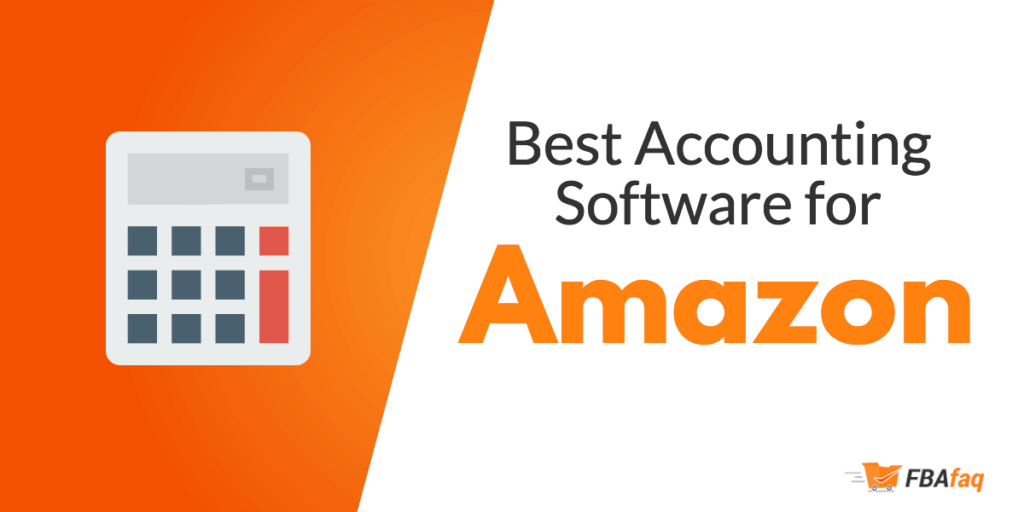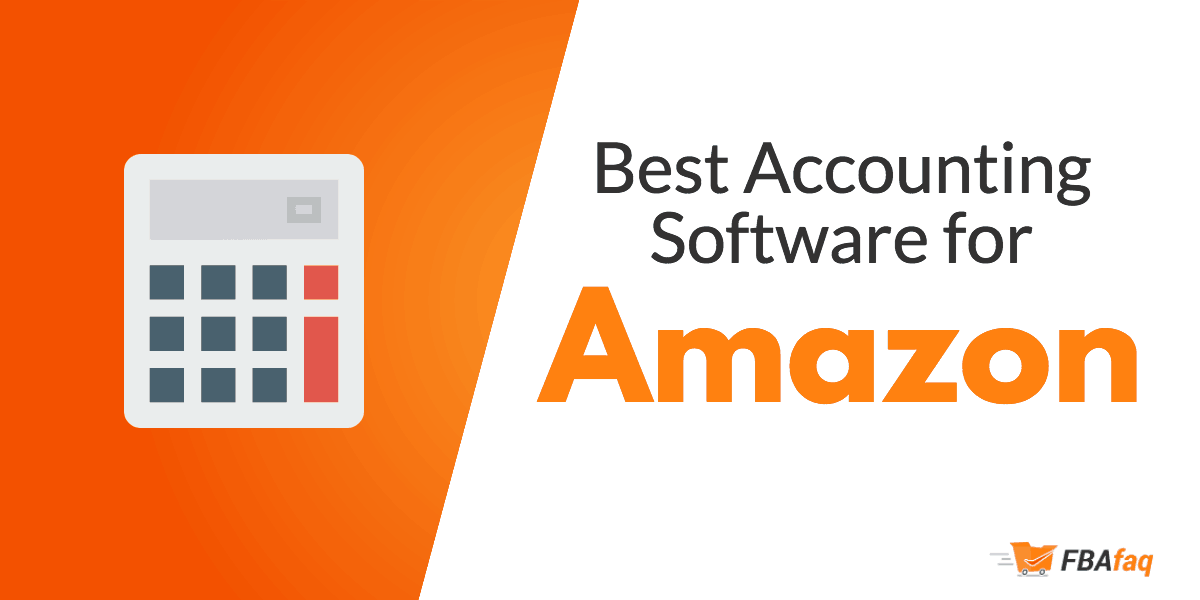 Godaddy bookkeeping is perfect for those who want a simple (& automated) accounting system. If you wanted to stick with a simple accounting there are other options that may be more cost-effective or free. For example, if you already have excel you can definitely use excel for your Amazon accounting and bookkeeping purposes. In fact, you can actually do some pretty advanced stuff with excel. Also, there is slickpie and waveapps, which are 100% free.
However, I wouldn't necessarily say these are better options. Because for me, the Automation is what Godaddy bookkeeping sets itself apart from the other accounting software for Amazon Sellers. The automation that you get from GoDaddy bookkeeping well worth their low cost. I would much rather save hours every month and pay $5 to $10 per month than to choose a free solution.
But with GoDaddy bookkeeping, it's a little more simplistic than other accounting software. This simplicity has pros and cons. The biggest benefit to using a simple bookkeeping software is because it's easier to set up and understand. The drawback is once you start growing you might want more sophisticated accounting software to show you more data and track financial data with more granularity. If this is the case there are several other accounting software solutions for Amazon FBA sellers that offer more functionality (i.e. QuickBooks and zero). These accounting software solutions also allow you to integrate with a variety of third-party software (i.e. using inventory software with QuickBooks or Xero).