A Private Label (PL) product is a product that is produced by a third-party manufacturer and sold under a different company's brand name.
It's usually a generic product that a company will slap their brand on, customize the packaging and sell it as if it was their own. Little does the consumer know, a different company actually created that product.
You may also hear a private label brand referred to as a "phantom brand", "PL" or "OEM."  In the manufacturing world, it is traditionally referred to as OEM (Original Equipment Manufacturer). In the online space, people will usually refer to private label as the shortened "PL."
Private Label is also referred to as:
OEM (Original Equipment Manufacturer)
Phantom Brand
Private Labeling
PL
Private label vs White Label: Private label is not to be confused with white label, which is usually referring to a service or software. The former is usually dealing with physical products.
Private label examples

Shopping in your local area, chances are you have encountered plenty of examples of private label products, often marketed as "value" brands or "generics."
Many people are familiar with PL products (whether they know it or not) and prefer to buy these "generic" products. Big box retailers like Target and Walmart are two great places to find examples:
Private label brands examples
Equate (Walmart): Equate is a Walmart private label line that you can buy at Walmart. If you take a walk down the health and beauty aisle, you'll see many Equate products alongside the well-known brands.
For example, you'll see Equate lotions, skin care products, medications, vitamins, soap, sunscreen and more next to name brands like Dove, Aveeno, dial, Johnson & Johnson, and Neutrogena.
Some shoppers recognize that Equate is Walmart's private label in this category, while other shoppers have no idea that this is Walmart's brand.
Child of mine (Walmart): Another example is Walmart's line of baby clothing. There's a popular brand of clothes for infants and toddlers called child of mine.
This private label line is exclusively available in Walmart stores, even though the clothing is actually manufactured by one of the top producers of children's apparel in the united states (Carter's Inc.).
Kirkland (Costco): if you shop at Costco, you are sure to be familiar with Kirkland! Whether its Bacon, Protein bars, or eggs, you've likely added Kirkland products into your overfilled shopping carts, at one time or another.
The biggest difference between Kirkland and many other private label brands in the brick and mortar space is that Costco integrates Kirkland into their core branding strategy – they make it well known that Kirkland is their brand.
Private label products examples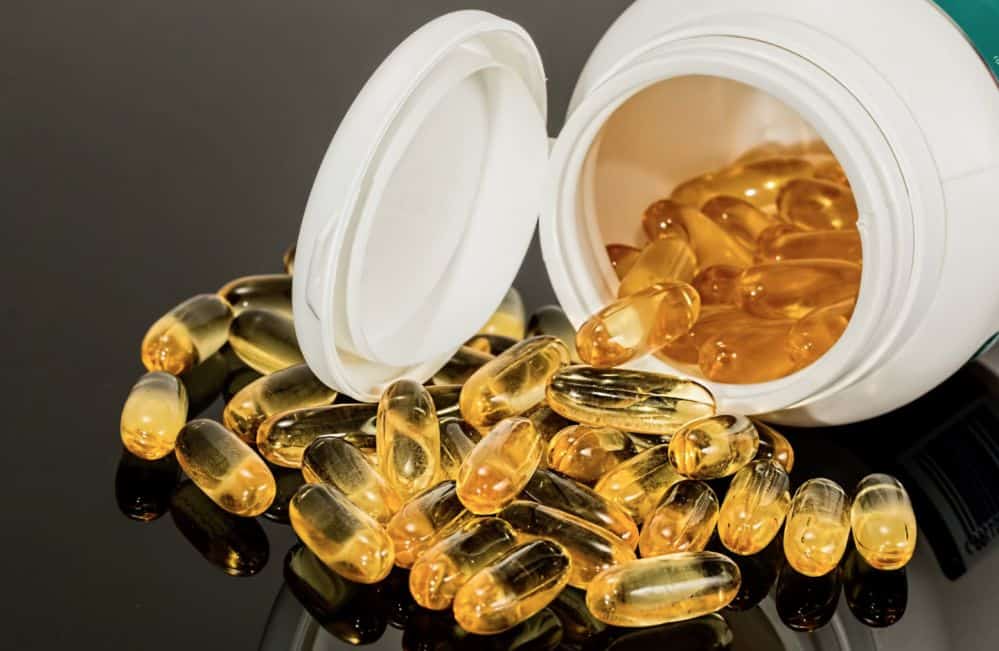 Private-label products are produced and sold in a wide range of industries and product categories. Here's a list of some common products that are private labeled:
cosmetics
supplements
hair extensions
cigars
bags
makeup
clothing
hair products
coffee
candles
wine
nutraceuticals
water bottles
eyelashes
foods
nail polish
water
watches
vitamins
tea
nail polish
essential oils
shoes
shoe bags
perfume
makeup brushes
edge control
eyeshadow palettes
organic cosmetics
t shirt
swimwear
sunglasses
mink lashes
PL product categories
There are many product categories that you will typically see private label products both online and in local brick and mortar stores. Here are some common product categories that you will see private label products being sold.
Household: Juicers, Cutting Boards, Kitchen Utensils
Nutrition: Health supplements, vitamins, healthy drinks
Furniture, home goods, and bedding: Pillowcases, curtains, sheets
Accessories: iPhone Chargers, Phone Cases, Workout gear, bags
Clothing (men's and women's): Socks, underwear, shirts, etc.
Food & grocery: energy drinks, health drinks, salsa, etc.
Personal care & beauty: lashes, lipstick, lip gloss
Skin care: Face lotion, wrinkle cream, acne cream

Just about any product category imaginable!
PL Market Share
Private label products make up about 16.6% of consumer packaged goods in all US outlet and convenience stores. Note that this data is from 2011 to 2014, so things have changed a little since then. For example, PL products have entered its way into different markets with an increasing variety of products (more agile manufacturing).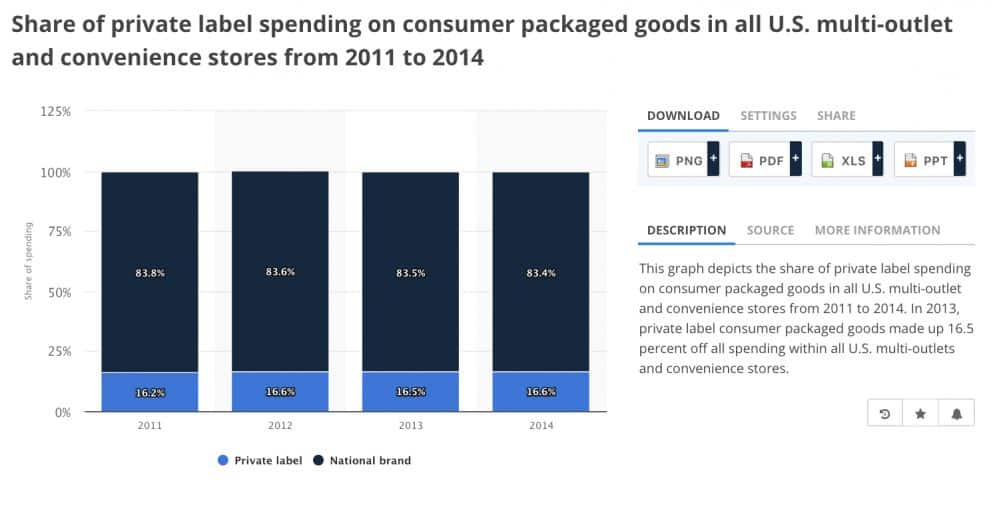 While private label products in the brick-and-mortar sector may be business as usual, in recent years, it has seen a big surge in popularity online. There is a huge growth of PL products being offered on the Amazon marketplace among other marketplaces & ecommerce channels.
Smaller and larger businesses alike, are jumping on the great opportunities that private labeling on Amazon has to offer. In fact, even Amazon has fully adopted Private Labeling as a core business strategy. So far, Amazon's Private Label Brands have experienced great success.
Pros and cons of private labeling products
Private label for Brick and mortar – pros & cons
The following are some pros and cons to using private labeling as a strategy from the perspective of a local brick and mortar store:
Pros:
You have more control: you may have more control over almost all aspects of your product than you would if you just sold other name brands.
Less expensive: it's generally less expensive, so you increase your profits.
Higher Margins: with lower prices, you will have higher margins. This allows more cash flow for other expenses like rent and other fixed recurring costs. It also allows you to spend more on areas to grow the business and expand your customer base.
Brand exposure & brand equity: If a grocery store were to private label their own salsa for example, everytime a customer dips their chips in the delicious salsa, they are reminded of the grocery store. In this way, the mere exposure of customers using the branded products helps build your brand.
Cons:
Possibly lower quality control: With PL, you are dependent on a 3rd party to create your products. If you sell products that aren't high quality, it could hurt your branding and future sales.
Minimum Orders: When you do PL, the MOQ usually rises. So you will need to invest a little bit more to create your branded products. You may only want a small amount of a particular product with your brand on it, which may not work out for you depending on the MOQ.
Stale Inventory: if you make a mistake and order a product that doesn't move, and just sits on the shelves – you are out of storage space and the money invested in those products.
PL for Online Sellers (Amazon) – pros & cons
The following are some pros and cons to using private labeling as a strategy from the perspective of an online business (such as an Amazon Seller):
Pros:
Can be very profitable: if you are successful in marketing your products, your PL products can compete directly with other more established brands. Depending on the market and your branding/ marketing skills, you could create a very profitable business doing PL.
Doesn't require a team: If you are an individual or small business, you are still able to create a profitable business selling private label products on Amazon. You can benefit from other manufacturers previous legwork to get that product to market, Amazon's fulfillment service (FBA), and Amazon's enormous audience.
Less expensive: it's generally less expensive, so you increase your profits.
Higher Margins: with a lower price, you are able to spend more money on your business elsewhere to grow it (i.e advertising, inbound & content marketing, etc)
Your product can go viral: your product is more likely to go viral than just being another seller selling branded products.
Brand exposure & brand equity: you are getting your name out there every time someone uses your product or gives it away as a gift.
Cons:
Possibly lower quality control: With PL, you are dependent on a 3rd party to create your products. If you sell products that aren't high quality, it could hurt your branding and future sales.
More competition: If you invent your own product, you will have a patent so companies can't sell the same thing. However, with PL products, there usually isn't a patent on the item because you are selling generic items. Any other business can sell the same PL products as you.
Stale Inventory: if you make a mistake and order a product that doesn't move, and just sits on your shelves or in your warehouse, you are wasting money on both storage and opportunity cost to sell other more profitable products. However, this could apply to any inventory you source, not just PL products.
Where to find private label manufacturers
So you are convinced that PL is the way to go. But where do you start? Where to do you find private label manufacturers? Well, it all depends on your strategy and the type of products you want to sell.
Many online sellers will first start their PL journey scouring Alibaba. Local retailers may find better products visiting Private label trade shows through Private Label Manufacturers Association (PLMA). Whatever route you go, you are sure to find the right manufacturer for just about any product you want to sell.
Top places to find PL Products
Alibaba: If you want to achieve the highest margins possible, you will likely be looking for an OEM manufacturer in China. Alibaba has been the Gold standard for finding manufacturers in China, and for good reason – its surprisingly easy to connect with manufacturers overseas with a platform like this.
Private Label Tradeshows: It may also be a good idea to check out PLMA (Private label manufacturers Association) to find upcoming tradeshows for the private label industry.
Google: you can also find private label products by simply doing some searches on Google to find manufacturers that will do OEM (Original Equipment Manufacturer).
Over to you
Tell me what you think. Have you decided to implement Private Label products into your business strategy? Share your experiences to help others learn!