Dropshipping is a great business model if you want to leverage other companies resources – such as inventory, warehouse storage, and fulfillment centers.
With drop shipping, you don't need much capital to invest to start your company. You don't need to invest money to buy inventory, store the inventory, fulfillment centers, employees, and more.
You can literally create a big e-commerce business without investing a penny, besides the sweat equity that goes into the marketing the products.
3 types of drop shipping companies
So what are these amazing drop shipping companies? Hold your horses there 🙂 Lets first discuss what types of drop shipping companies there are:
Supplier Database: A company that compiles a database of suppliers that will drop ship for you (Like Salehoo and World Wide Brands
Supplier: An actual supplier that will drop ship for you – that may specialize in a category of products or have a whole catalog of different products available.
Marketplace: A marketplace that connects you to suppliers (Like Aliexpress)
Which companies are the most popular?

Before digging into each company, I wanted to see which were the most popular. The following is traffic data pulled from Ahrefs, a popular SEO tool for measuring other website's traffic.
This data is all 15 drop shipping companies, organized by the website traffic each site gets:
You'll notice that the highest traffic company is Aliexpress, and the lowest is national drop shippers.
Why I sort by traffic: I like to sort all by the traffic numbers because sometimes you can find the best, simply by sorting by popularity. Sometimes the collective wisdom of the crowds gives a good insight into the best products/ services.
With that said, keep in mind that the websites with the highest traffic doesn't necessarily mean they are the best.
Best supplier databases: if you wanted a purely drop shipping supplier database-centric focus, then the following 5 are likely the best options out of all 15, in no order. They give the best mix of popularity, function, products, and suppliers available, etc
Oberlo
Salehoo
Worldwide brands
Wholesale Central
Doba
So keep this in mind when browsing traffic metrics of each website.
Let's get to a more detailed look into all these companies!
The following list is in no particular order: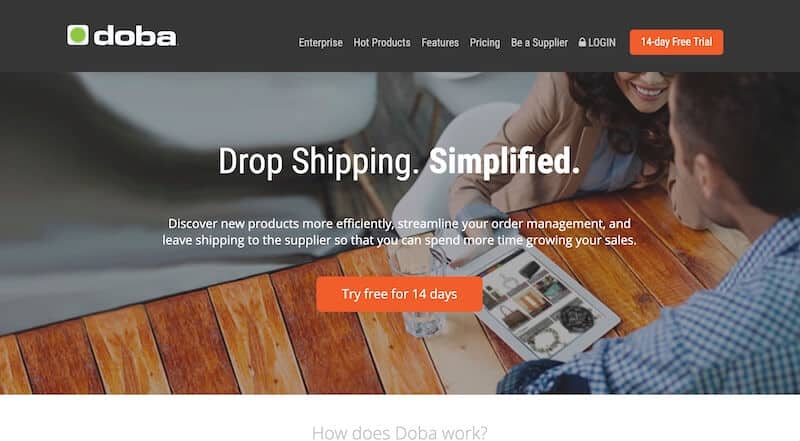 You can sign up for a two-week free trail with Doba to decide whether or not you like it (some people love, some don't love it — there isn't a lot of middle ground).
After that, they charge a monthly fee. You can choose from products from multiple suppliers and manufactures which means over two million items to choose from, more than almost any other dropshipping company on the list.
It's easy to use, and you can build a custom list of products you want to sell that fit your niche quickly. The company is also known for having excellent customer service when you need support.
However, it is important to keep in mind that because you are often dealing directly with multiple suppliers and manufacturers, you may get different results, especially when it comes to shipping speed.
It's also important to note that you will pay for access to those suppliers and manufacturers — Doba is generally one of the more expensive dropshipping companies on the list which is one reason why some people aren't huge fans of the company.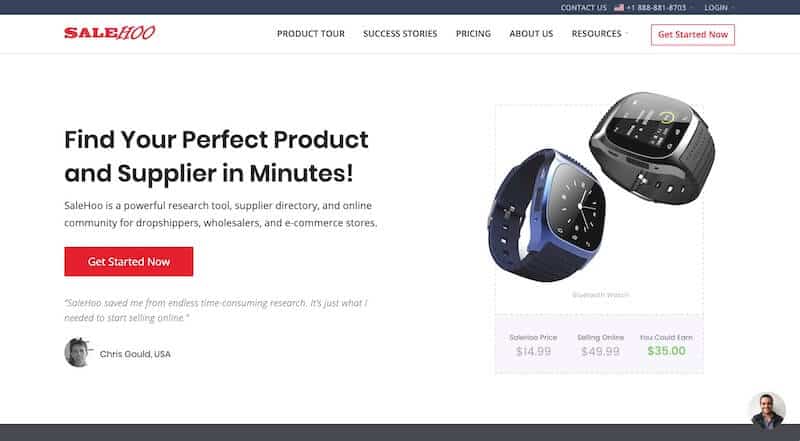 SaleHoo is probably one of the most well-known companies on the list. You pay an annual fee to be a member, and in turn, you get access to its collection of over 8,000 highly-screened suppliers offering over 1.6 million products from around the world.
According to its customers, it offers amazing award-winning support that you can access via several outlets, including phone, web chat, email, and social media.
There's also a 60-day free trial so you can really get a feel for it before making a commitment.
SaleHoo is based in New Zealand, and it offers plenty of tips and guidance for new sellers, including help finding products that relate to your niche and a research tool that helps you find the most profitable products.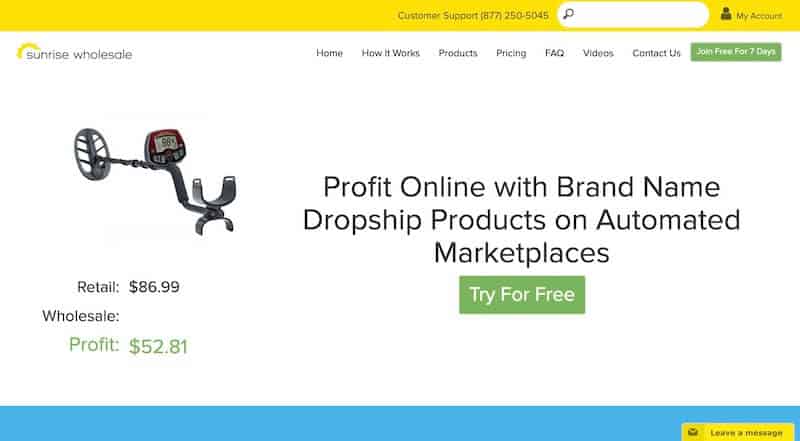 Sunrise Wholesale doesn't offer as many products as some of the other dropshipping companies on the list, but it makes up for it in what it does offer.
The company is based in Los Angeles and has been around for nearly two decades. Items are shipped directly from Sunrise to your customers, so you don't have to worry about shipping times varying from supplier to supplier.
Because of the smaller offering of products, you won't find everything you might want to sell here, but it's great for people who sell electronics, home decor, sports gear, accessories, and a few other niches.
They even offer top brands, ranging from Gucci to Disney. Pay an annual or monthly fee after your seven-day free trial. Just keep in mind that the company does charge a restocking fee if your customers return an item that wasn't damaged.
One of the most beloved aspects of Sunrise Wholesale is how easy it is to integrate with top eCommerce platforms, like Amazon and eBay.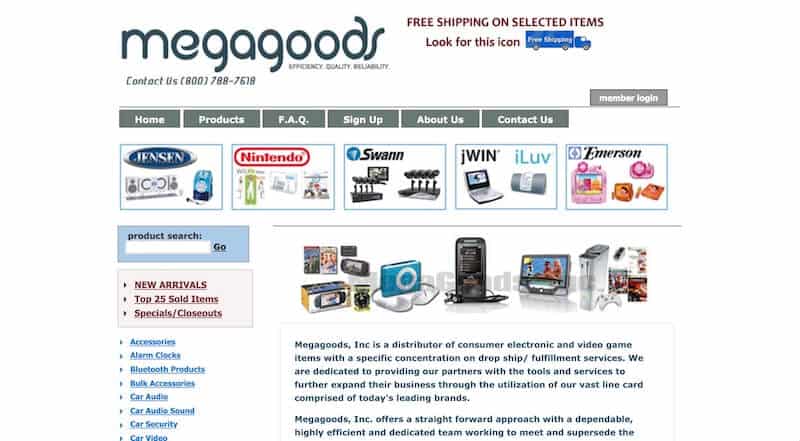 Also based in Los Angeles, MegaGoods is a dropshipping company that focuses almost solely on electronics, video games, mobile device, and related products. So, if that's your niche, you may want to give them a try.
They offer access to over 2,000 products from top brands, like Nintendo, Emerson, iLuv, Philips, and Coby. Take advantage of a month-long free trial, easily-accessed support and customer service, reasonable monthly fees, and the ability to use your own branded packaging.
You can also expect quick domestic shipping. The downsides are that you shouldn't expect high-tech integration, so you may need to do more manual work to get the products added to your own store.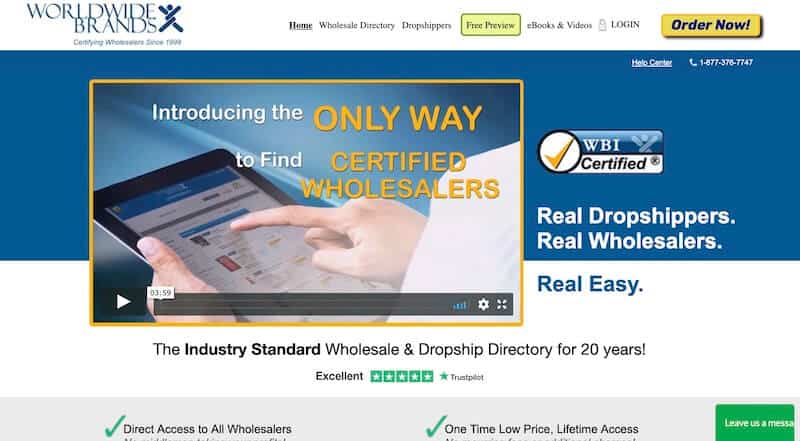 Florida-based Worldwide Brands isn't technically a dropshipping company itself, but it does link you to over 9,000 suppliers offering over two million products, and it's known for keeping up with what's selling so that you have access to only the hottest products on the market.
Among its trusted suppliers, you'll find the top brands for thousands of products, and Worldwide Brands will even help you search for just the right items if you can't find what you're looking for.
There's no fee (hidden or otherwise) once you pay a one-time lifetime membership cost, and you'll find that the suppliers are all high-quality.
However, that one-time lifetime membership cost is on the steep side, and there is some up-selling. You may also have to do some manual work when integrating the site's products with your own store.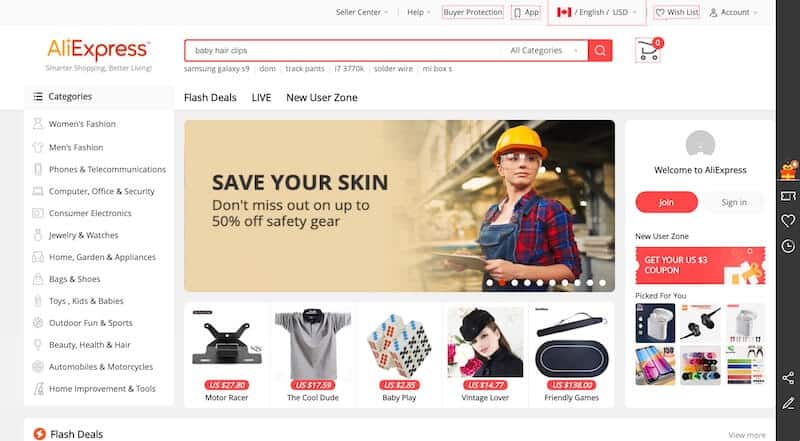 Even if you've never heard of any other company on this list, you may be familiar with AliExpress, a subsidiary of Alibaba. The China-based site is a great place to start if you're new to dropshipping or selling online, and it's free to sign up.
Aliexpress is the most popular in terms of traffic. But aliexpress is better for specific drop shipping or wholesale techniques; it's not really a dropshipping supplier database.
Aliexpress is more of a large marketplace, that you can purchase products for at nearly wholesale levels. This is more of a retail arbitrage technique – that you are using for drop shipping.
You'll receive access to millions of products, each of which fits into one of about 40 categories, ranging from women's clothing to home improvement products. Even if you don't end up using it or using it for very long, it's a great place to do research and learn what's hot and what's not before adding products to your store.
It's also great for beginners looking to get their feet wet in dropshipping. You just have to be sure to vet your suppliers yourself, so they don't mess up orders and harm your stores reputation.
Also, note that a huge drawback to aliexpress is the shipping time. Most orders will ship from China. So typically, and especially now with the trade war, aliexpress shipping takes a long time – nearly a month in some cases.
So this is the big drawback to aliexpress. With companies now, like Amazon, shipping orders in 2 days, nobody wants to order something online and wait a month.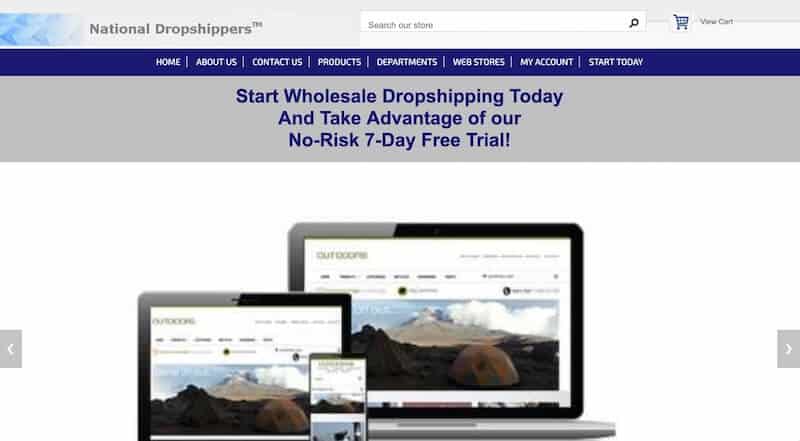 New Hampshire-based National Dropshippers is another one of those sites that doesn't fully integrate, so you'll be doing plenty of manual work on your own, but the benefits may just be worth it.
After a seven-day free trial, you'll pay a reasonable monthly membership fee, or you can pay quarterly, semi-annually, annually, or for a lifetime membership.
Shipping from National Dropshippers is quick. Once you notify them of a sale, items typically arrive within three days or less. All products are tracked once they're mailed, and you have regular access to customer support via phone and email, no matter what you need.
Keep in mind that National Dropshippers only mails items to customers in the United States, so if you offer international sales, you may need to look elsewhere.
That said, signing up for a membership grants you access over 250,000 unique products.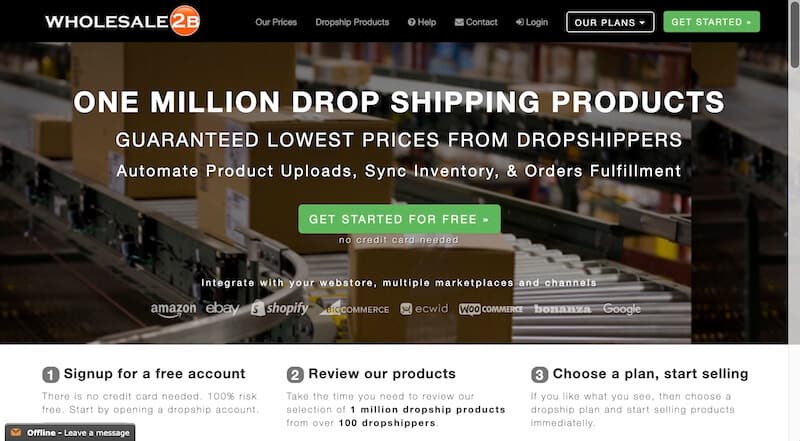 Many sellers love Wholesale2B because of its versatility. The site offers just under two million products from hundreds of unique sellers in over 25,000 categories, including some products that many sellers say are difficult to find.
That can excite you or overwhelm you, but either way, it gives you plenty to choose from. It also integrates well with eCommerce platforms like eBay and Amazon, and you can even use it with your own custom site.
The initial signup is free, though you will eventually pay a monthly or annual fee, depending on which platform you use for your sales.
The site sends you daily inventory alerts, offers analytics tools, and even provides you with the opportunity for to order items to be shipped directly form whatever eCommerce platform you're using.
The company's biggest downside is that its user support is practically non-existent. You can't pick up the phone and talk to a customer service representative like you can with many of the other companies on the list, though you can find limited help online.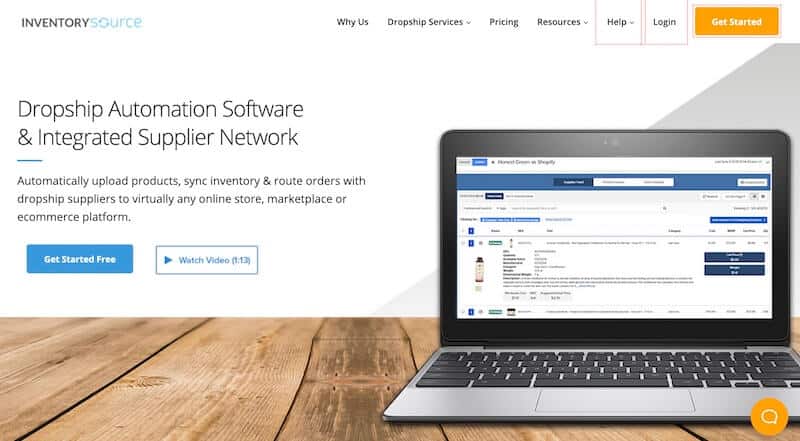 Inventory Source is another dropshipping company that fully integrates with many major eCommerce sites, and it even offers full automation so that you don't have to take any extra steps when you sell a product and need it shipped to your customer.
Monthly plans are a little on the expensive side, but it may be worth it given how much time it saves you. There's also a free option, but it doesn't offer all of the integration and automation benefits the other plans do.
Inventory Source has over a million products offered by over 180 suppliers in its directory. You can take advantage of educational tools and 24/7 customer support access when you become a member.
Oberlo is an excellent dropshipping company that receives high reviews from its users across the board. The catch is that it only works with Shopify, so if you're not selling on the Canadian eCommerce platform, you may not find it very useful.
But if you are, you'll probably fall in love with everything Oberlo has to offer. The company provides a 30-day free trial, and when you initially sign up, it's free.
However, once your sales pick up, you'll have to move up to a monthly payment plan. Each one of the company's suppliers is hand-picked by Oberlo, so you won't find yourself working with anyone who is questionable, and the inventory management system is amazing.
You can customize your own product pages, and it's all really easy to use.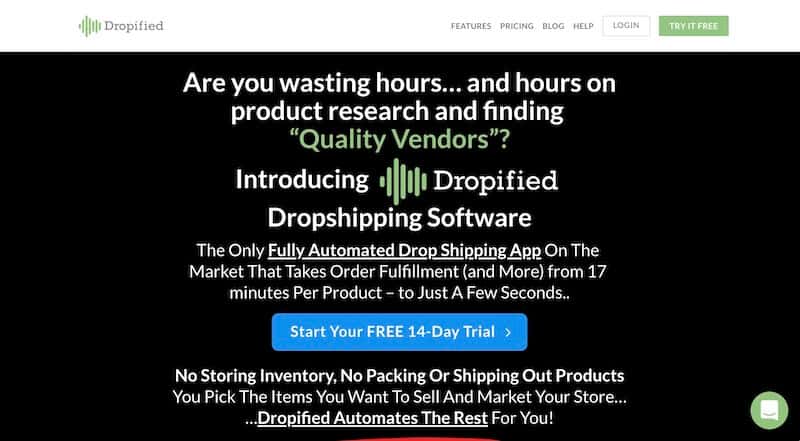 Not only is Dropfied a great company to work with if you're looking for automation, but it can connect you with over 7,000 suppliers and manufacturers, all located within the United States.
Use the site's tools to import items from AliExpress, manage your inventory, and keep up with your stats, all from your own dashboard.
When you sign up, you'll receive a two-week trial period, and after that, you'll pay an annual fee which can be on the expensive side, especially if you're a new seller.
Like Oberlo, the site integrates seamlessly with Shopify, though you can use it with some other eCommerce platforms as well. You can take advantage of integration with Facebook ads, and it will help you find videos across the Internet that you can advertise on if you wish.
The downside is that unless you're a premium member, you have limited access to customer support. You can't pick up the phone and call a customer service rep, but you can contact the company through email, web chat, and social media.
Dropship Direct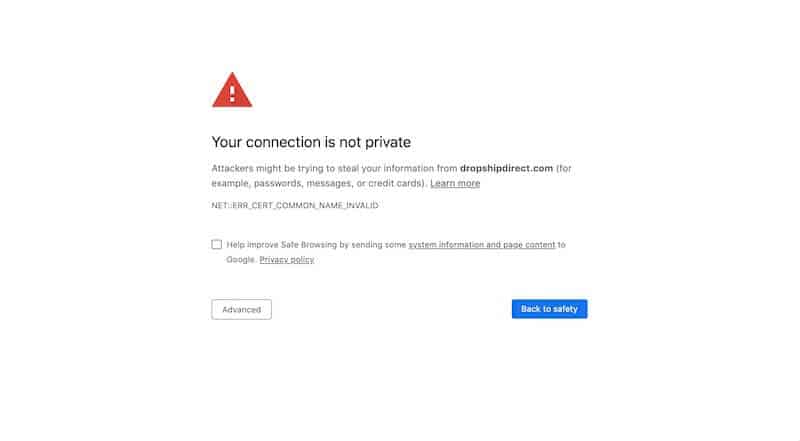 Update: It looks like not only is their SSL not active (happens), but their entire site had been deleted. Their website now goes directly to the default WHM server landing / error page.
If you're a new seller, paying a big monthly or annual fee may not be in the cards. That's where Dropship Direct comes into play. The company does not charge a fee, and it offers over 120,000 products from multiple categories.
You can customize your own packing slips with your brand logo if you wish, and you can take advantage of sales metrics provided by Dropship Direct. There's no minimum requirement, and each item is shipped directly from the company's warehouse in Michigan.
They'll ship domestically, as well as internationally to Canada, Australia, and Europe. However, don't expect too much from the company's website; it's pretty basic.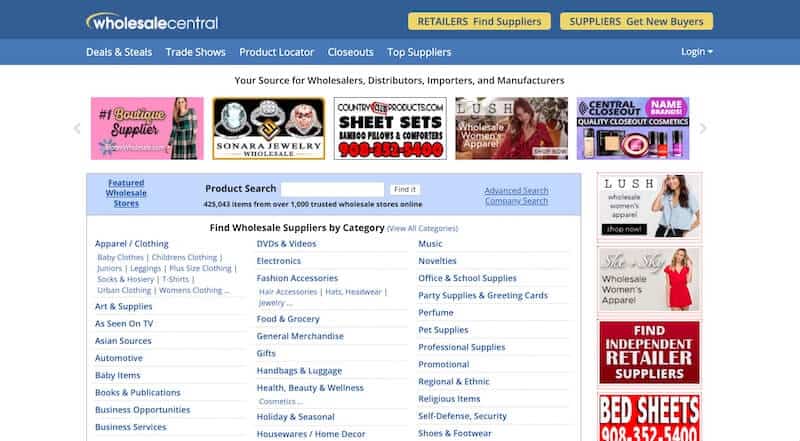 Wholesale Central isn't a dropshipping company exactly, but it does help connect you with suppliers and manufacturers, no matter what type of products you sale.
Founded in 1996, it may be one of the oldest companies on the list, but it does offer one of the biggest varieties of products. It's free to use and easy to use, even if it is a bit outdated.
Just keep in mind that not all of the suppliers listed offer dropshipping, and you will have to do much of the work manually if you choose to use any of its products on your site.
There isn't much in the way of integration. That said, it can still be quite a useful tool, especially if you're having trouble finding products in a certain niche.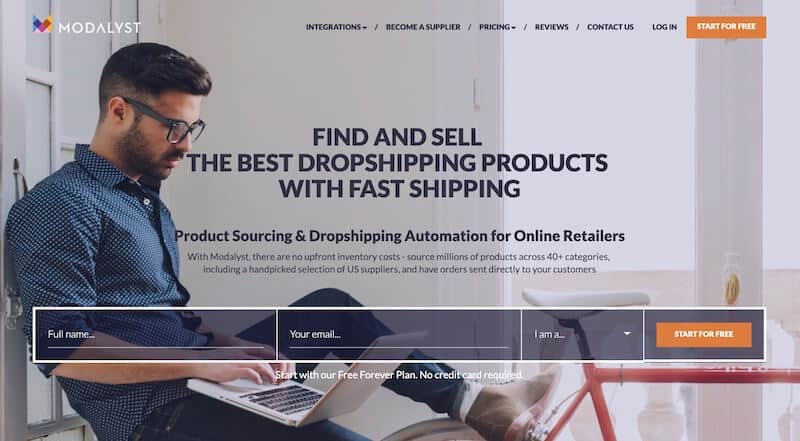 Modalyst promises fast shipping and a vast selection of products available for dropshipping, and according to its users, it delivers.
You'll find millions of products that fit into many categories and many price ranges, and it integrates fully with select eCommerce sites. If you're new, you can get started for free, though you will eventually have to pay a monthly fee once your sales pick up.
And if you want work with the "premium suppliers," you'll pay an additional annual fee. You can customize product details, like price, before you upload them to your site and take advantage of the site's great inventory management system.
You'll also find several resources and educational tools available to new and experienced sellers alike.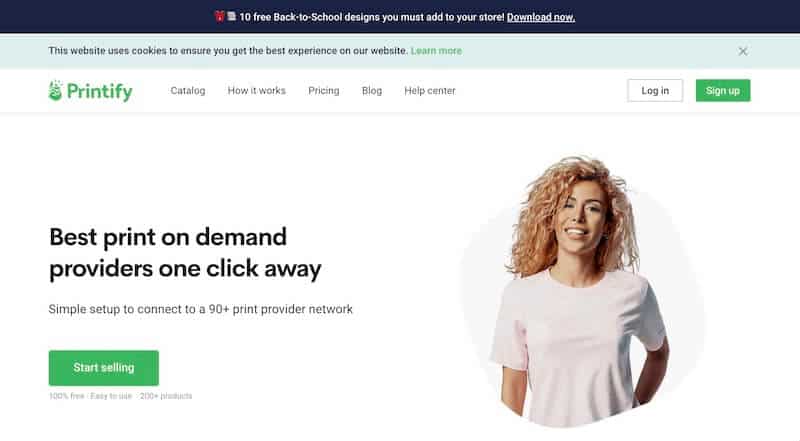 Last but not least, Printify is an excellent choice if you sell customized products online.
This is a great company for Print on demand drop shipping, but you need to make the designs for the products first. So if you are looking for purely drop shipping, where the products are ready to go, look elsewhere on this list.
If you are reading this article, you probably want access to a database of multiple suppliers who will drop ship their products for you. But some are interested in the (POD) Print on demand model.
Here's how the POD model works: You choose a product form their site, and send them the logo, artwork, or words you want printed on the product.
They send you a sample, you set up a product listing in your store, and once your sales come in, they print up more products and mail them to your customers.
If you use Shopify or Etsy, you can also take advantage of full integration. The site is initially free to use, but you'll need to upgrade and pay a monthly fee if you have multiple stores or already have a great number of sales.
The way Printify makes money is by taking 40 percent of your actual sales each time you order newly-printed products.
If you are interested in print on demand, you should submit your designs to the plethora of other print on demand companies.