A Seller Tool Review: Is this the Best Book Scouting Service?
   this A Seller Tool Review, I go over the advantage and disadvantages of this book scanning app. I also compare A Seller Tool to other competing book scouting scanners & services.
Local Database Vs Live Lookup
With all the free book scanning apps available for the iPhone and Android, you may wonder why you would want to pay for a book scanner? There are two types of book scouting apps and software:
Local database Local DB Book scouting (scanning) apps
Live Lookup: Live scouting (scanning) apps
With the local database types (like A seller tool), you may have to have a bigger upfront investment in purchasing a laser scanner and PDA.

However, you will get much faster scanning speeds when scouting for books and inventory for to resell on Amazon. Therefore you make more money in a shorter amount of time because you can scan more items.
You need to make the decision on which one is right for you. I recommend that you get a local database option if your budget allows for it
ASellerTool Review of Monthly and Setup Costs
My Asellertool review wouldn't be a good review without discussing price! So here is the breakdown of cost:
ASellerTool Cost:
Initial Setup (1 Time) cost: $200-$599 initial setup for PDA, or $0 if you already have an iPhone/ android
Monthly Cost:

$9.95 / mo for Lite Plan (includes live lookup, listing software, online arbitrage)
$35 / mo for Professional Plan (Includes Local Database Search, Live Lookup, listing software, online Arbitrage)
Tip: If you sign up through my affiliate link here, you will receive a $15 credit from Asellertool.
PDA for A Seller Tool Book Scanning App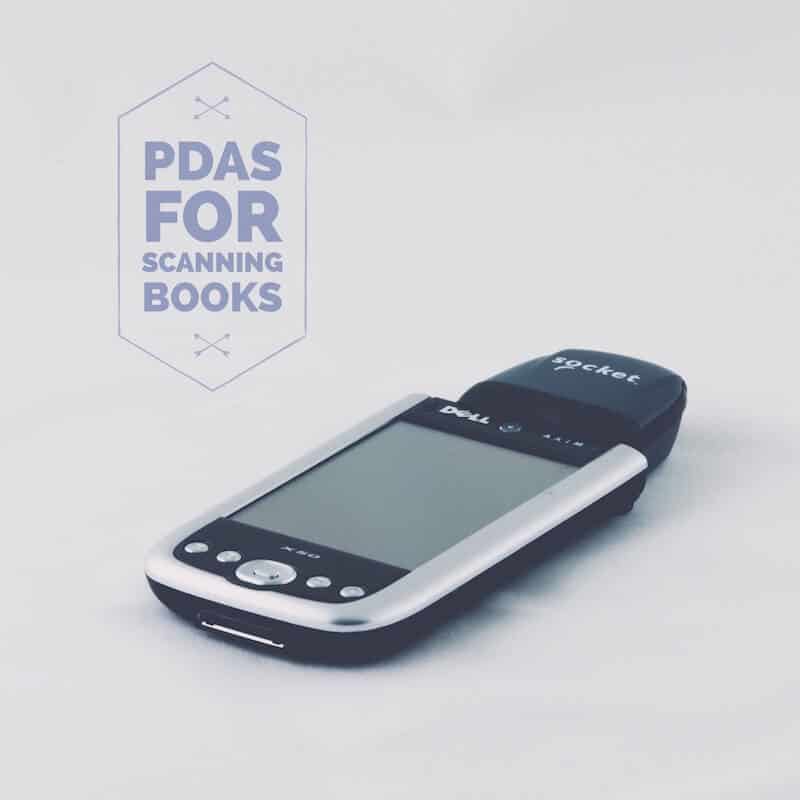 The ASellerTool book scanning service is a local database book scanner system. This means it stores all of Amazon pricing data onto a system, like a PDA. However, they also offer an iPhone and Android app for free in the subscription cost.
The local database is preferable to using an internet connection (like using an iPhone app) because it is much faster with a local database, along with much better battery life.
You will need a PDA and a scanner to use the ASellerTool book scanner app system, which means there will be a higher upfront cost. However, you will make your money back 10-fold, so don't worry too much about the initial cost, if you can afford it.
On ASellerTool's website, they offer PDA packages that you can purchase to work with their book scanning system; this will cost anywhere from $329-$599. However, you can also buy the same PDA and Laser scanners (separately) online. I also sell the PDA book scanner packages on this site as well. I like to offer my audience a discounted price on PDA systems. I get them set up with everything they need.
A seller tools new iPhone and android features
A seller tool has added the ability to have a local database on the iPhone and android. Now you can switch between the live database and the local database. The local database is going to give you much quicker scanning, whereas you can get live pricing data with the live database. The live database uses your Internet connection to retrieve the present information on Amazon.
A Seller Tool Book Scanning Monthly Subscription
The monthly cost of ASellerTool's service is $30 a month, but I believe there is also a two-week free trial. You could test-drive their service if you were on the fence about the local database method.
I have used a lot of different book scouting services, and I believe that ASellerTool continues to offer the most functionality for the price. Compared to other services they offer the best monthly prices as well.
For example, another popular option is Neatoscan, but they charge around $50 a month. It's an excellent service, but A Seller Tool seems to give you more bang for your buck. ASellerTool includes the FBA scan app for iPhone & Android, an inventory listing software, and of course their core offering of a great PDA local database scanning app.
What's included in the ASellerTool Subscription?
PDA Scanning App: This is the main feature of the ASellerTool book scanning subscription. This is the main PDA application to search and scan for inventory (books, media, and just about anything else). You will have to download the database to the SD or PDA every few days to keep the pricing info current.
iPhone Book Scanner Apps: With that $30 a month, you also get an application for your iPhone or Android device. This is a live lookup system. It shows you live prices that are current on the Amazon website.
Inventory Lister: You also get a Windows application that helps you quickly and efficiently list all of your inventory on Amazon. This application speeds up the process of listing your inventory on Amazon because it has several different presets that allow you to grade your items quickly and efficiently. For example, you just press a button to add info about a book's condition (worn out cover, torn cover, etc.). They have default presets already set up for you, but you can also build your custom presets.
Things you will need to start scanning with ASellerTool
ASellerTool Subscription and APP: You will need to setup an account and install the application on your PDA. I also sell full PDA units with everything installed and ready to go if you were not technically savvy, or if you didn't want to spend the time figuring out how to set it up.
PDA: You will need a PDA like a Dell Axim for example.
Laser Scanner: You will need a laser scanner like a socket scan scanner that plugs into the PDA (CF scanner, or SD scanner). You can also get a Bluetooth scanner to connect wirelessly.

ASellerTool Review of FBA Functionality
I've been using A Seller Tool for some time now. I was using it back when FBA didn't even exist! Then all of a sudden FBA came along and changed the game forever for us Amazon Sellers.
Back when FBA was new, ASellerTool wasn't fully FBA compatible. This is understandable, as that was when FBA was brand new and not everyone had adopted FBA yet. I'm glad to say that they are all fully integrated with FBA now!
On their PDA application, they now include FBA pricing. They also list all the other typical data such as sales rank, merchant prices, Amazon Price, the number of sellers, etc.
Their windows inventory listing application allows you to list FBA items as well. And their mobile phone application, FBA scan allows you to look up live pricing for FBA items.
Book Scanner (with Sales Rank Functionality) on the cheap
Note: If you did not want the functionality of a PDA laser scanner (for super fast scanning) you can choose to pay only $10 a month for their FBA scan iPhone/Android App. There are also other options (Such as profit bandit) that you have to pay a small $10 a month fee while using your phone. If you're trying to save money, the benefit of using these apps are that they show you the sales rank.
However, many serious sellers like me, need the local database lookup functionality. In this case, the FBA scan app, along with the listing tool are just the icing on the cake with AsellerTool's primary service. I recommend that you get a local database functionality for super fast scanning.
ASellerTool Advantages
The advantages of using this service are that you get the fastest book scanning possible because of the local database on the PDA. You also get the live look up from their mobile scanning app. On top all that, you have access to an application that will help you list all your inventory very quickly! It's a win-win for Amazon sellers.
Quick Scanning: ASellerTool offers very quick scanning/ scouting ability. You do not have to wait for your Internet connection to retrieve the pricing information. The whole Amazon pricing database is stored on locally on an SD card and allows for instant retrieval.
Live Pricing Book Scanner App: You have the capability to look up live prices if you have an Android or iPhone device as well. I often use both, but the PDA is my primary book scanner.
Inventory Listing App: You have access to an inventory listing application as well. This listing application enhances your productivity when listing and sending books into Amazon FBA. It's also perfect for people who don't use FBA to list the products on Amazon to ship themselves later.
Pricing Triggers: You have the capability to set a pricing trigger. A pricing trigger is just a sound or signal to tell you to buy a book based on predefined criteria. For example, maybe you want to set a trigger to sound above a certain price point, below a certain sales rank, etc. This can drastically speed up your scouting when scanning lots of books and media, as you don't need to decide each and every time, whether you want to buy it. It is mentally easier just to listen for a ding or see a signal on the screen to purchase the book/ item.
Mac or PC: You can download the local database data on a PC or Mac and then transfer it to the PDA scanner or SD card. However, you can only use the listing application on the on Windows.
ASellerTool Disadvantages
Manually Download Database: You have to download the Amazon Pricing data to your device. You should do this either daily, every three days or once a week. You do this, so you have fresh, relevant data for scouting and scanning book/ other items. This is only for the Local database ASellerTool PDA book scanner. This doesn't apply to ASellerTool's iPhone and Android app since these use your Internet connection to look at prices.
Limited Catalog Retrieval: You cannot download the whole Amazon database. However, it shows you most of what you need, so this isn't a big deal. You only have data for books, music CDs, audio CDs, DVDs, Blu-rays, software, games, board games, and toys. You do not have the entire Amazon catalog, which may include more items in other categories. Although, as stated on the ASellerTool website, the data will contain information for almost 99% of all items, and for 99.9% of all books that are on the Amazon marketplace. I agree with this statement. Note that the FBA scan iPhone/Android should take care of any other item that you're not able to scan with the PDA.
PDA=Not Live: The disadvantage with a PDA system is that you do not get live lookups. The drawback is apparent sometimes. For example, at times you'll see items that show no FBA offers. However, then you look on the Amazon App (which is a live lookup app), and there will be FBA offers. I have experienced many times where I go look it up on the Amazon website and there are in fact FBA offers where it didn't show any on the PDA app. It can be slightly frustrating I admit. However, you get used to dealing with that drawback.
FBA Scan is not truly live: The FBA scan app is supposed to show live data from Amazon. Meaning, if I scan with the FBA scan, it should show the same information as it does going to amazon.com. I have noticed that even the FBA scan app is not 100% entirely 'live' – which is odd. I have seen instances where it does not grab the FBA information, yet on the Amazon app (or amazon.com) it does show it. When other sellers are in fact selling on FBA, it will sometimes indicate that there are no other FBA sellers, or the prices will be a tiny bit different.
Inventory Lister must have PDA present: You have to initially plug-in your PDA to your computer, to list your inventory. This may be a nuisance if you have somebody else, such as an employee, listing your books while you are out scouting.
My overall impressions
The A Seller Tool scouting app & scanner service has been perfect for me. I love this book scouting App.
Out of all the Amazon Seller Tools I use, I would say that the book scouting scanner is the most important one. And ASellerTool is my book scouting app of choice. It is the book scouting scanner app that I have used the most throughout my years (over ten) of running an Amazon FBA business.
That's about it; I hope my Asellertool review has helped you decide whether you want to give them a shot, and try their free trial.
Overview
ASellerTool Is one of my favorite book scanning applications available. It comes with a lot of features including the inventory listing application and the FBA iPhone scanner app. it also is only $30 a month which is very cheap compared to many the other competing services. Overall AsellerTool has been my go to scanning app for scouting out books, media and other items to resell on Amazon and Amazon FBA.
Included Inventory Listing Application
Mac and Windows Compatible
Pros
Very fast scanning ability
Includes a free inventory listing application for Windows
Setup pricing triggers
Includes free iPhone and Android app for live pricing info
Use on iPhone, android or PDA (Live Database and Local Database)
Mac and PC compatible
Cons
Initial setup is not as easy as downloading an app on the app store
Inventory listing app only works on Windows
A live local database these to be downloaded daily or weekly
Local database is not 100% accurate all the time because it is not live pricing info