There are two types of people who may want to sell used textbooks on Amazon. The first group of people is likely going to be students who have a pile of old used textbooks that they don't need anymore. The other group will be those who want to buy used textbooks locally and resell them online for a profit.
Students: Those that have old textbooks on the shelves not being used and want to recoup some of their money from buying textbooks for school
As A Business or Side Hustle (To make money): Since many students don't bother selling their used textbooks after finishing their classes, you can often find donated textbooks at thrift stores for a couple dollars that can resell for $30-150+ on Amazon. This can be a great, easy side income business, especially if you live next to a college campus.
Students: recoup money from selling your old textbooks
Where should you sell your used textbooks?
If you are a student, you have a few options to sell your used textbooks:
College Bookstore: You think you over paid for your textbooks at your college bookstore? Well same goes for trading in your book at your local college bookstore. This is the absolute worst place to sell your used textbooks. You will often only get pennies on the dollar.
Online: This is a better option compared to a local bookstore or college bookstore. However, places like "bookfinder" "bookscouter" and any other textbook buyback business flavor of the month are just that – businesses. So they need to make money.
To make money, they need to act as a middle man (just like your college bookstore), and as such, they will likely buy back your textbook for pennies on the dollar as well. With that said, you should get a little more with one of these businesses compared to your college bookstore.
eBay: This is a great marketplace to sell your textbooks if you want to unload them very quickly. eBay is great for selling things quickly, however, the market price is often very low, so you won't likely make much selling your used text books.
Craigslist: Now we are getting to a better option for selling your used textbooks. Craigslist can be a good way to get a fair market value for your textbook. The drawback is it is hit or miss.
To be successful selling your textbooks on craigslist, you often need to live close to a college campus, have a high demand textbook (popular class), a recent textbook, and you may need to meet with several people. This is a pain in the butt, in my opinion, but some people love craigslist. I could never stand the flakey people that don't show up.
Amazon: Now we've got a winner. Amazon is a true open market, with the best market prices for textbooks. Why? Because everybody shops on Amazon for used books and textbooks. This creates a higher demand and thus market price. Besides that, Amazon caters to a different audience compared to eBay.
The culture of buyers is just different compared to eBay – people are willing to spend more to have the convenience of shopping on Amazon. I have been selling textbooks – both my old used college textbooks and buying/ reselling textbooks for profit, for many years. I have found that Amazon is by far the best place to sell used textbooks online.
Since I was doing this as a business, I was very aware of the market prices, and Amazon could not be beat. It's a no brainer, once you compare the options. Craigslist is the closest second best, but there are many drawbacks to craigslist, among it being very hit or miss as mentioned.
In fact, I typically only used craigslist to buy cheaper textbooks to then resell on Amazon!
Selling your textbooks on Amazon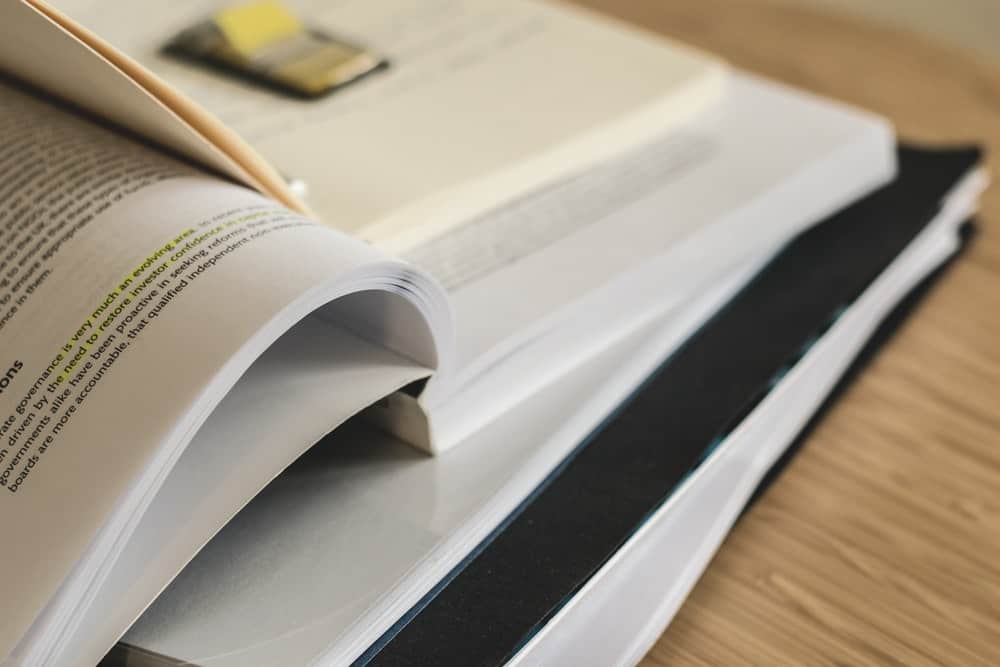 If you decide to go with Amazon, have now have two options to sell your books on Amazon
Amazon buyback program: Amazon has a "buyback" program for textbooks, that is now called the Amazon trade-in program. With the trade-in program, you can exchange your use items, such as textbooks, for an Amazon.com gift card.
Selling through an Amazon account: if you would rather receive cash (and maximize your return), you will want to sell directly on the Amazon marketplace. To do this, you will need an Amazon seller account.
Note: Amazon changed the name of the buyback program from "buyback" to "trade-in"
Amazon buyback (Trade-in program) Vs selling on Amazon: If you sell your textbooks directly on Amazon, it will allow you to receive more money than the Amazon trade-in program. The only drawback to selling on Amazon is it will involve a little more legwork and it will take more time.
You will have to list the textbook, wait for it to sell and then pack and ship it to the buyer. Honestly though, this is not a big deal and is worth it for the extra money you will receive, especially if you have more than one textbook to sell.
Make Money: Buying and reselling textbooks on Amazon
For those that want to make money, Textbooks are one of the best types of books to sell on Amazon. Textbooks can often be bought for a few dollars and sold for a great profit online. In fact, there are many places locally that you can find textbooks and other books to resell on Amazon.
People that buy and sell textbooks usually scout (scan) for used textbooks at local thrift stores, libraries, craigslist, or other sources in order to buy used textbooks at a low price locally to resell them on Amazon for a profit.
Maybe you are creating a business or just buying and selling used books on the side. Either way, textbooks can be a great way to make some extra money. Textbooks can often be found very cheaply and if they are still in demand (i.e a current edition) you can get a fantastic return on investment.
Steps by Step: How to sell textbooks on Amazon

Things you will need:
Amazon account
Amazon seller account: You can use your regular personal Amazon account to sign up, or a new one that is associated with your business. When you sign up, you will have the choice between a professional or individual seller account.
A printer
Shipping Labels: You can also use plain old computer paper and tape. Sticky backed shipping labels are preferred because they are much easier to work with.
Packing Supplies: Such as tape and padded envelopes
You definitely can sell with a free individual account. However, if you start to sell a lot of books on Amazon (over 40 books a month), you will want to get a professional seller account.
This requires a monthly fee of $39.99 a month. Eventually, if you sell enough books, that $39 a month actually saves you money. As a pro merchant seller, you pay fewer fees compared to an individual seller account, when your items sell.
Choose a selling plan

With two selling plans, Amazon offers you the flexibility to sell one, or one thousand. The Professional plan gives you the opportunity to sell an unlimited number of products and pay a $39.99 monthly subscription fee. Individuals pay no monthly fees, but instead pay $0.99 per item sold. Both Professionals and Individuals pay other selling fees when an item sells. Learn more about plans and pricing ›
Also, note that if you have an individual seller account you won't be allowed to sell more than 40 books per month.
Most people who first start out selling probably going to choose the individual seller account, which is perfectly fine, and best of all – completely free.
How to sell your used textbooks on Amazon
Sign up
Research
List
Sell
1. Sign Up for an Amazon seller account
First, sign up for an Amazon seller account. (You can just use your regular Amazon account for this).
2. Research The Textbook Price
Type in the ISBN number of each textbook to see how much they are going for on Amazon in the used marketplace.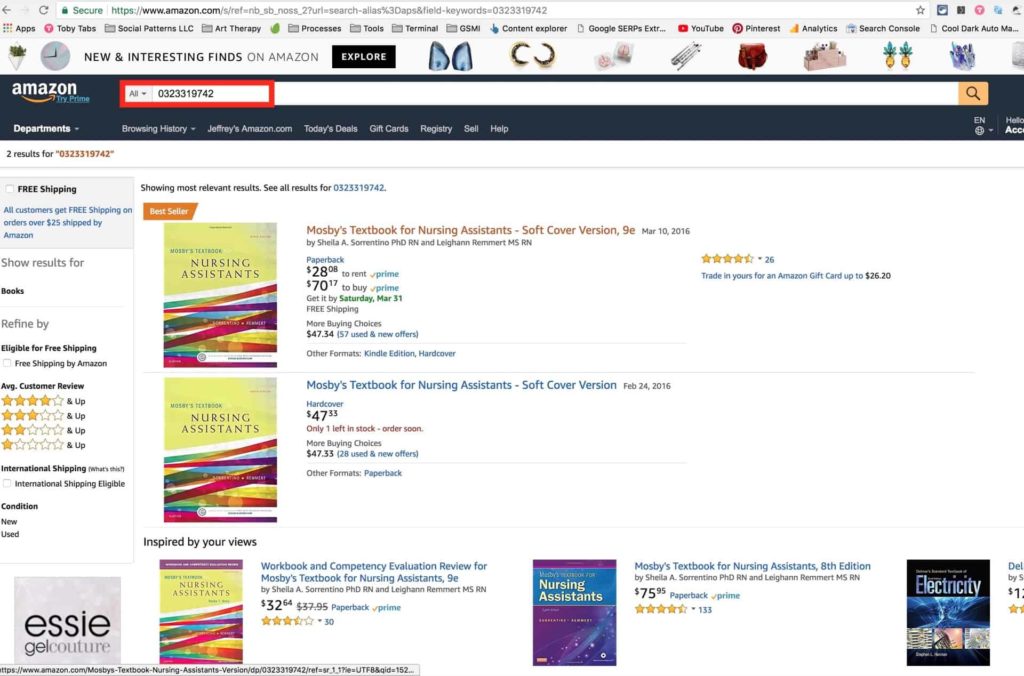 3. List the Textbook
Next up is setting the condition of the book. Then you need to set the methods of shipping that you accept.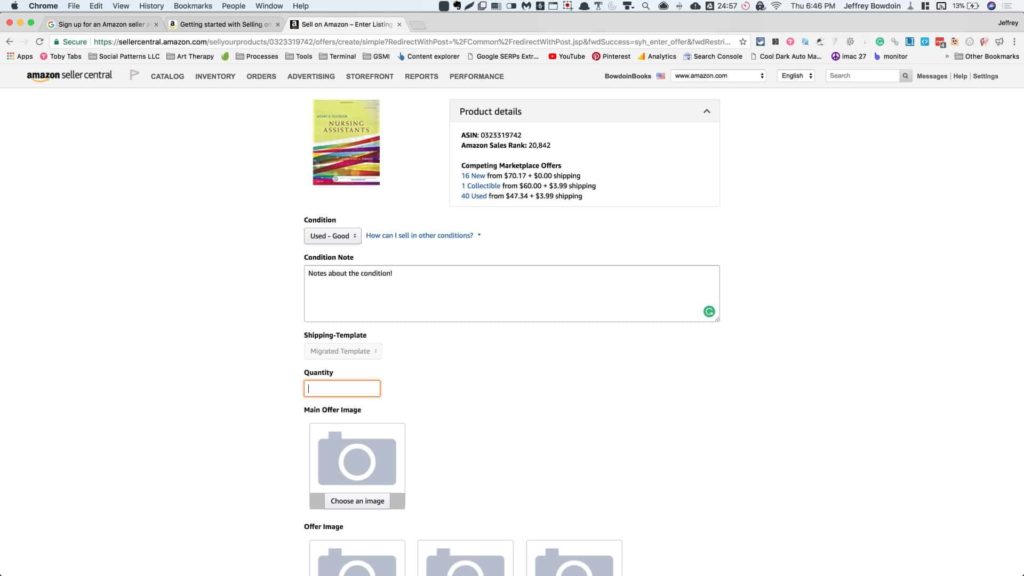 4. Sell the textbook
Once you're done with that you can publish your book to become live on Amazon.

Amazon BuyBack: How to turn textbooks into gift cards (Amazon Trade-in Program)
If you want a quick way to offload all your old textbooks on Amazon, you can use the textbook buyback, or as they call it now – the textbook trade-in program. Keep in mind that with the trade-in option, Amazon pays you in Amazon gift cards, not cash.
Also, you will likely only get around a third of what you would get going through the process to sell the textbook on Amazon's marketplace.
The biggest benefit of the textbook trade-in program is it's quick and easy. Amazon will pay you right away for your used textbooks (in the form of gift cards). You don't have to wait for it to sell and you don't have to deal with returns (which are kind of rare though).
Amazon will then guide you through the process to see if the textbook is eligible for the trade-in program. They're going to ask you some questions, such as: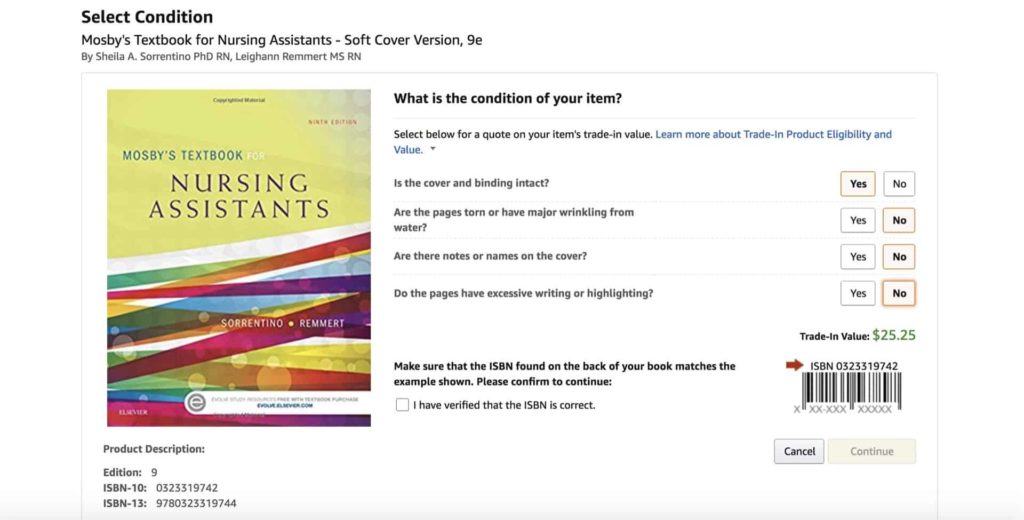 Is the cover and binding intact?: If you answered yes, the textbook is eligible.
Are the pages torn or have major wrinkling from water?: If you answered no the textbook is eligible.
are there notes or names on the cover? If you answered no the textbook is eligible.
Do the pages have excessive writing or highlighting? If you answered no the textbook is eligible.
Then Amazon will ask to make sure that the ISBN matches the ISBN as shown. You have to put a check mark to make sure ISBN matches.
If all is well, you can then click continue to proceed with the next steps. It will then ask you to sign in with your Amazon account if you're not already signed in.
The next step is to just continue with instructions and print out packaging slip and printing label that you can print out for free from Amazon!